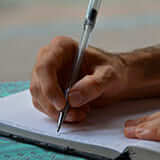 How to Write a Literature Review as your Dissertation Chapter
Take time practicing your writing, learn and read material:
What is a literature review?
Research doesn't take place in a vacuum - every dissertation, no matter the topic, builds on previously published work. The literature review is the section of your dissertation where you detail the work that's been done in your field and show how that research has influenced your own work. There should be no original work in the literature review section; it focuses entirely on already publishes research. Be careful when writing, though, because a literature review isn't just an annotated list. Your literature review needs to go below the surface to critically explore the relationship between the resources you cite and their impact on your work.
Doing the research
Obviously the first step in doing a literature review is doing the research. A wide range of sources can be cited in a literature review, with the most common being peer-reviewed journal articles, book, theses and dissertation, and conference proceedings. Since you're
writing a dissertation
, it's likely you've already spent a lot of time reviewing the work in your field, but it helps to take extra time to make sure your references are comprehensive and current - you don't want to accidently leave out any research that's critical to your field. Also make sure to keep careful notes on bibliographic information so you don't have to go back and look up sources more than once.
Deciding what to include
Obviously, you can't include all the literature about your particular topic in a literature review, so you have to pick and choose what you want to keep and what you can leave out. The literature review shouldn't be a complete list of all the works you consulted while writing your dissertation. Instead, it should focus only on the research that provides the academic foundation for your work. There are two main topics you want your literature review to address:
Background material.
Use the literature review to outline the history of your chosen topic. What research has been done previously? How does your research question fit within the landscape of research being done in your field? Presumably your work addresses a gap in the research, so outline where that gap is and why it exists. Remember, not everyone reading your dissertation is going to know the ins and outs of your topic, so provide enough information for a layperson to understand why your work is important and how others in the field will interpret it.
Methodology.
Include any research that influenced your study's
methodology
. If you're using accepted practices for your field, you want to outline how those methods were developed and came to be standard. If you're veering away from standard methodologies, you'll need to be sure to include a critical analysis of previous work and outline the problems those researchers encountered.
Getting organized
Once you have a list of the literature you want to include in your review, you need to decide how to organize it. You have a lot of leeway here, but in general there are three main ways you can organize your work:
Chronologically.
You can organize your work chronologically if you want to provide perspective on the historical development of your topic.
Thematically.
If your dissertation addresses several related concepts it can be useful to organize the literature review around particular theories or ideas.
Methodological.
You can also divide the literature into sections based on research methodology. This method isn't as common and is mostly used when doing a meta-analysis or when your work explicitly addresses methodological issues.
Writing the review
Once you know how your review will be organized, you can group the literature together into sections. For example, reviews organized thematically will likely have subheadings for different concepts, while chronological reviews might be grouped by time period or important research developments.
Within each section, introduce the topic then provide your analysis of the relevant literature. This will be the most important part of your review. You don't want to just summarize resources; you want to draw links between them and use them to illustrate the big picture that surrounds your research. For each resource you include you'll need to address at least one of the following points:
How does it fit within the larger pattern?
Your literature review should tell the story of your particular topic, so determine how each resource fits within your narrative. Does it introduce a theory or concept you rely on in your work? Does it further the research being done by others? How did in influence the work that came after it? All good research is built on the work that came before, so be specific about the development of your topic.
What are its strengths and weaknesses?
Evaluate each source's strengths and weaknesses. You should be able to provide an analysis of each study's methods and conclusions so that you can give it the appropriate weight in your literature review. If your work is specifically addressing problems or inconsistencies with other studies, you'll need to be able to explain those issues.
How does it relate to other resources being cited?
Finally, you need to be able to draw relationships between resources. Look for studies that offer competing viewpoints and detail the differences. Also look for similar studies that can be grouped together to show a larger trend. Some people find it helpful to draw webs or maps to help visualize the relationships between sources.
Reviewing your review
After you're done writing the last step is to
review your literature review
. Are there any noticeable gaps in the research? Do you list any sources that aren't incorporated into your larger concepts or themes? You'll know your literature review is complete if it answers all the following questions:
What is already known about your research topic?
What are the key concepts the reader should know?
What are the prevailing theories in your field?
Where are there inconsistencies in the current research?
Where is further research needed?
How does your work fit into the larger research landscape?