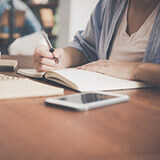 5 tips to improve your essay writing skills
Great tips usually come in the form of common sense and the tried and tested. And when it comes to
essay writing
, many tips are obvious (but still need to be repeated often) while others are the result of genuine experience; trial and error.
So you may already know what it takes to improve your writing skills, but need a friendly reminder, or you're new to all of this and would like to learn from other people's mistakes. Either way, the hope is that you'll benefit from these tips (a simple medley of writer wisdom and basic reminders).
#1 Plan your 3 page essay like a 15 page paper
The steps to conducting a
term paper
are pretty well-known. Refine a topic, come up with a preliminary thesis statement, generate a polished outline, make note and source cards etc. etc. But if term papers get this type of love, how come essays are sometimes treated like a diary entry or an on-the-spot evaluation?
Often times the problem that many people face when composing an essay is that they are careless when it comes to providing a solid framework for their words. Maybe because the word count for essays is much less than larger works (lending people to believe that it requires little or no planning to write). Or in some cases because the topics are familiar or close to home they feel that they can get away with not creating an outline or useful groundwork.
But in many cases, skipping out on this important step just creates more work in the end. Which usually comes in the form of major structural changes along with large-scale revisions (which can sometimes mean going from 8 paragraphs to 4); that no one really wants to do.
#2 Eliminate redundancy
This one tip may be the most popular, and common sense advice available on essay writing.
How to spot 'em
Redundancy in writing usually appears through the use of common words, clauses or phrases. They are usually innocently placed in essays as a transition or bridge between sentences or clauses. Though instead of just using one or two words to convey a point, they often use several unnecessary words that leads to a redundant statement.
And even though these phrases often sound good, they are no more than pieces of fat clinging to the sentence. But the objective of an effective essay, and therefore an effective sentence, is to be all 'meat' and no fat.
Though obviously at times it is important to repeat certain terms for emphasis, too much can leave your paper with more 'fluff' than substance.
*Remember you should aim for an essay full of 'tight', well-planned, and trimmed sentences. These types of sentences are more likely be useful and beneficial to the reader (as oppose to ones filled with padding).
Examples of redundant phrases
Due to the fact that --> Replace with --> Because
All things considered --> Replace with --> Considering
In the event that --> Replace with --> If
Other examples are with abbreviations-i.e., when people repeat the last word of an abbreviation (such as ATM machine). And also with simple terms that do not need to be present in most cases. For instance, quite, really, and severely.
#3 Beat yourself up
Well this may not sound like the best advice-especially from a mental health standpoint-but the main idea is to be disciplined in your writing. This covers completing your essay by the final submission date along with accomplishing any mini-goals that you have set (such as finishing up the research portion, having the first draft completed and so on).
For
effective essay writing
it's crucial to close all avenues to procrastination and set a realistic timeline to follow. Even if you're writing without an outside deadline you should still provide one for yourself to force a commitment to take root. And beating yourself up is simply a means of showing tough love. When you miss a deadline or fail to reach a goal, don't look at it as something light-be upset that you didn't accomplish what you set out to do and work extra hard to make up for it.
#4 Be honest when it comes to a crappy argument
When
writing academic essays
some people find themselves in a very bad relationship. Even though they know their argument has problems and probably won't convince anyone of much of anything, they still can't seem to let go of it. But why? Well the main culprit is usually time. In most cases they've already invested so much of it they are not willing to part with their argument; even under horrible circumstances. Or in other situations they may feel that they can simply cover up its flaws with a few quick-fixes. But overall these things will likely lead to a poor grade, or even worse, a piece of rubbish that no one will bother reading all the way through.
So what should you be looking out for?
The signs of an argument gone wrong
Missing a suitable counter argument; neglects other opposing viewpoints
Weak supports and evidences; connections are present but lack depth and clarity
A thesis statement or clear objective is hard to locate anywhere in the essay
The facts and statements present cannot be verified or no real effort was put into finding credible and reliable information
If an outline were created based of what was actually written, as compared to what should have been written, it would not make any sense (the order is illogical).
#5 Lastly, revise like you're getting paid for it
And hey maybe you are. But even if you're not, you should still consider the revision stage a viable one, and take your time to go through your entire essay with a critical eye (as many times as it takes).
Until you've truly revised, your essay is not ready for publication. It may just as well be junk on a piece of paper. Meaning, sure it takes up a lot of space, but essentially its worthless.