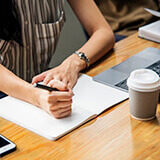 Term paper on Marketing: SEO and Internet ads strategy
It seems that some of the hottest topics in today's marketing world are
any and everything
to do with online marketing. Whether a business' primary customer base is online or offline, the pressure to excel in a digital environment is considerable. And with this being the current state of affairs, any
term paper
that covers something useful such as SEO and internet ad strategies, is likely to be a true crowd pleaser.
So for starters, what areas should be addressed in a research or term paper?
Regardless of whether you are
writing for a marketing course
or a history one, there are certain components that need to be in place when formulating any term paper. And the most basic of these are an introduction with background information on the topic, a sound research question and thesis statement, and a body that provides supportive evidences in a logical, coherent manner. Here we will focus on the two major items needed to start any paper; the research question and the thesis statement.
Marketing strategy #1: SEO
Search engine optimization is a well-known internet marketing strategy. Several jobs have been created simply to provide this service alone (i.e., helping sites to boost their "organic" rankings on search engine result pages). Also additional evidence of its popularity and demand may be that many marketing agencies have embedded SEO right along with social media and PPC (pay per click ads) services into their sale packages. Suffice to say, its relevance and importance in today's marketing world is an undisputed one.
Presenting your topic in a term paper
When working with a
topic for a research paper
, its important to narrow down your topic enough to ensure that a reasonable research question can be produced from it. For instance, with our sample topic,
SEO as a marketing strategy
, we need to identify exactly what it is about this topic that is researchable and interesting to pursue.
Several points may come to mind; a few basic questions are listed below.
Sample research questions for SEO as a marketing strategy
In what major ways has SEO evolved into a marketing strategy since the mid-1990's?
How has Google's panda algorithm update impacted the SEO marketing world?
Is it necessary for businesses to hire SEO consultants? Why or why not?
Forming a thesis statement
After identifying a suitable research question to delve into, your next step would be to provide an answer to that question; which is where your
thesis statement
comes in. Thesis statements may seem overrated at times, but they are actually very crucial components of any paper. So even if you are not sure what the answer to your research question will be, you can start by providing a preliminary statement in which you make an educated guess on what you believe the answer will be. Your research will then confirm or deny your assumption.
For example, you may reply to the third research question by stating that "In some cases it is necessary to hire an SEO specialist. This is based on three major factors (1) the competency and capacity of a company's current staff (2) the urgency of the SEO needs (3) the marketing budget of the company."
The sample thesis statement provided above fits all the major requirements;
its researchable
its debateable (not everyone may agree with it)
its limited to 1-2 sentences
it focuses on the major points of the paper
Marketing strategy #2: Internet ads
So now that we've reviewed SEO, lets take a look at another dominating internet marketing strategy; online advertising (or internet marketing ads).
The field of online advertising is a pretty vast one; so for the purposes of a research paper it's very important to specify and define exactly what is intended with this particular topic. The umbrella term 'online advertising' can help us understand what is commonly thought of when we use the words 'internet ad.' And though online advertising encompasses other things, in general internet ads can be described as the top or side banners found on websites and blogs, or text displays that appear on certain websites as well as the side of a Google's search result pages. Likewise they are, for the most part, paid advertising by a business or organization, onto a third party website.
And as with SEO, there are several interesting research questions that can be derived from this one topic.
To begin, it would be helpful to label the major types of ads that are popular today. This can be done by considering the method in which they are paid for by businesses. Examples can be seen below;
Three main types of online ads
PPC (pay per click) also known as CPC (cost per click): This is when the advertiser pays when someone clicks on their ad (but they do not pay for listing it)
CPA (cost per action): This is when the business, or whoever publishes the ad, pays only when a customer signs up purchases a product or service
CPM (cost per mille): When the advertiser pays for the amount of impressions that the ad receives, and in this case it is a thousand, considering the term 'mille.'
In addition to the main ways in which businesses pay for their ads, there are several other ways to categorize and describe internet ads; for instance, how they appear (whether floating, pop-up, or discreet) as well as the most cost effective method to use in a varying situations. And from this we can anticipate the many research questions that would be applicable to this topic. A few are provided below.
Sample research questions for Internet ads as a marketing strategy
What advantages does internet advertising have over traditional forms of advertising?
Who are the major benefactors in today's internet advertising industry and how did they obtain this status?
What are the most cost effective types of advertising for small businesses and why?
As with the other example provided, a suitable thesis statement should then be formulated to answer each research question. Its also important to note that these two topics on marketing, internet ads and SEO, can both be easily combined into one term paper. When doing so the student or researcher would simply prepare research question(s) that address both topics as well as a fitting thesis statement to sufficiently cover each point.
Martha Buckly
Writer:
See other articles