Title Page for a Research Paper
What is the first thing that comes to your mind when you are given a task to write a research paper? Surely, you immediately remember the main parts of any writing such as introduction, the body part, and the conclusion. Of course, your research paper must be as informative and exciting as possible. You will probably spend several hours, days or even weeks choosing the most appropriate and effective research methods to include them in your writing. You are also unlikely to avoid the thoughtful and time-consuming analysis of all the useful sources and references. However, paying such close attention to the main content of the research paper can lead to students forgetting something. The title page for a research paper is one of the most crucial issues. It is an essential part of your work since it will be the first of what your audience (the reader) will see. And, based on this page in particular, a reader will decide whether your work is worth reading and studying in detail. Therefore, we suggest you explore (or recall) the features of the title page for the research paper, and also define its different formats, as well as the mandatory requirements and peculiarities for each of them.
Formats and Features
Being processed correctly, any title page of your research paper is a confident step to the highest grades and successful results. This part of your writing contains necessary information about your work, such as:
research paper topic;
author (+co-authors, if there are any);
educational establishment;
year of submission.
As you can see, a title page reflects the basis of your work in some way. In addition, being formatted correctly, it gives the reader an understanding of how responsibly you have approached the preparation of your assignment. Besides, people tend to judge a book (and a research paper as well) by its cover!
So we've approached the main question - how to write a title page for a research paper appropriately? First of all, two main formats are usually used for any research paper: APA and MLA. These formats may seem to be very similar, but each of them has some quite important unique requirements that must be strictly followed. A format that would be implemented in your writing depends on the requests of your professor. Therefore, it is better and safer for you to be skilled in all the format structures, just to be sure!
APA: Step-by-step Guidelines
A refined title page is not as unreachable as it might seem. You'll get on the winning side if you follow our simple instructions on how to prepare a perfect title page for a research paper. APA format, as a rule, consists of the following parts:
Title.
Personal details.
Running head.
Page number.
The title of your research paper should be written in the center of the page, about halfway down it. You are to write a full title (topic) of your research paper. Try to make it interesting and exciting for your future audience. Use a readable and recommended Times New Roman, 12pt. Then goes a "personal details" part, that consist of your full name, school, and the date when you are going to submit your writing. All this information should be written at the bottom of the page and be placed in its center. Also, there could be some special requirements such as mentioning your tutor or the level of paper (research paper, in your case), and you have to check in with your professor first.
Running head is the header that should be used on each page of your writing. Here you are to formulate a short version of the main title (up to 50 characters) and make it aligned left. Dealing with a page number, keep in mind that it should be separated from the running head and be indicated throughout the whole paper on the right side of the page.
APA Title Page Example You May Follow
Running head: KATRINA'S ECONOMIC IMPACT (+ the page number on the right side of a page)
Title: The Economic Impact of Katrina: Exploration of Long-Term Effects (center alignment)
Personal details (center alignment): John Smith
University of Michigan
Dr. Watson
October 17, 2005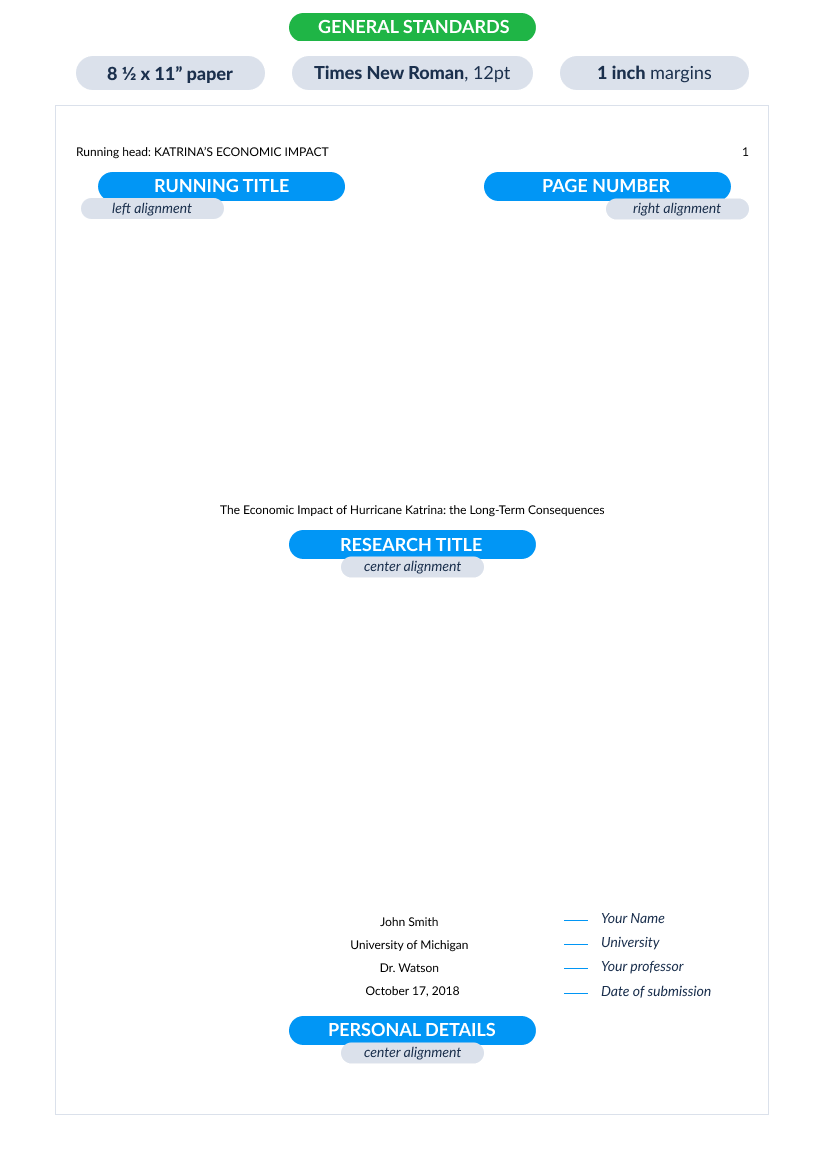 MLA Format Instructions
If you are dealing with something related to the humanities or liberal arts in your research, you are most likely to run into the MLA (Modern Language Association) format. Usually, a cover page isn't required in MLA format because you may find all the necessary points on the first page. But, there are some cases when a research assignment tutor may ask you to make a separate title page. Hence, we suggest you follow our simple and useful instructions on how to make a title page for a research paper: MLA formatting. The component parts of this kind of a title page would be:
Research paper title.
Your (an author's) name.
Course or a class.
Supervisor's name.
Date of submission.
Let's discuss some peculiarities for each of these components.
You are to use Times New Roman font, 12pt throughout your whole research writing.
Your title should be written one third down the page. Every word of the title should start with a capital letter, except for some very short words and prepositions (and, an, of, for, etc.). Don't use punctuation in the title unless you're referring to a quotation. If you use a title of an art piece, italicize it.
Before writing your full name, make sure you have skipped 2-3 lines after the title.
Skip 2-3 lines down. Writing a course or class, you may also include its section number if you want.
Be aware of the correct indication of your tutor name. It depends on their degree.
Date in the MLA format is usually written in European style. Indicate the research paper "due to" date.
An appropriate MLA research paper title page example
Title: Causes of Bipolar Disorder in Male Adolescents
Your name(2-3 lines down): Michael Williams
Your course\class(2-3 lines down): Psychology 1213
Research paper tutor: Dr. Rod Jones
Due to date: 17 May, 2018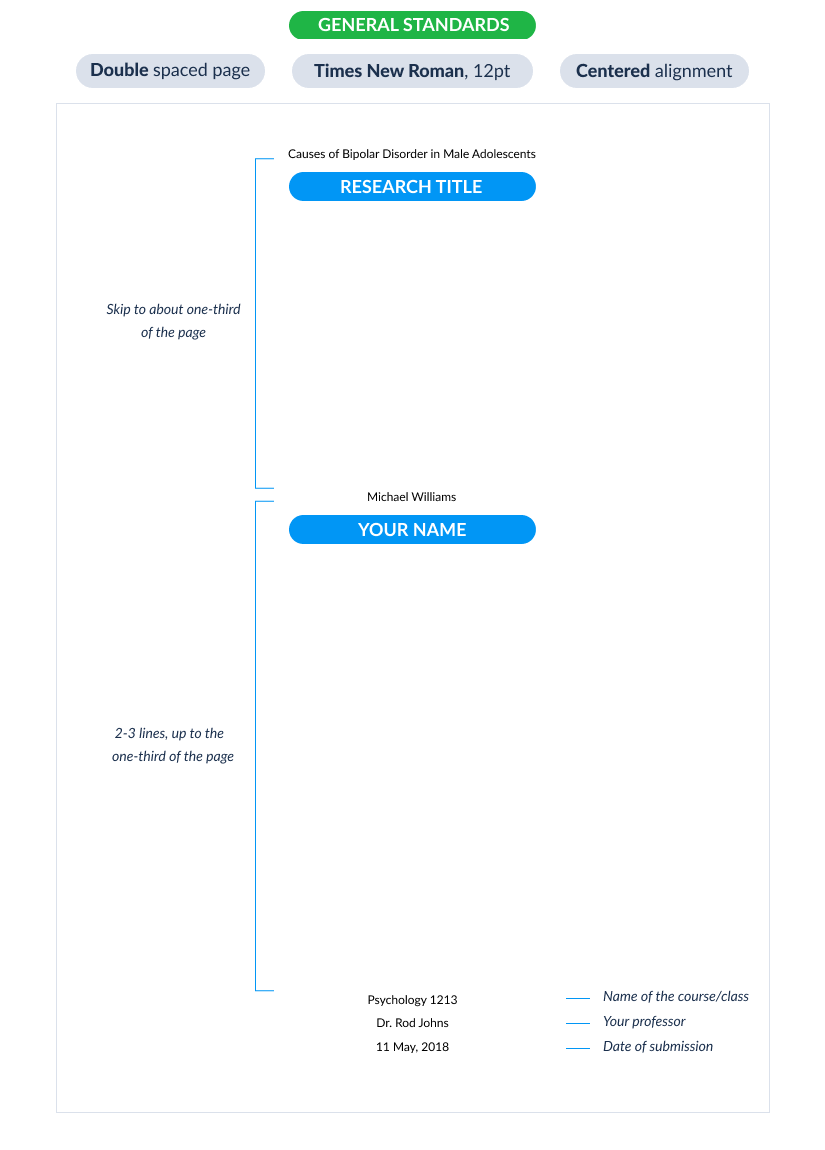 As you can see, MLA and APA title page formats are quite different, although they have some common points. Be careful when preparing a title page for your research, and you will undoubtedly get exciting results! Good luck!