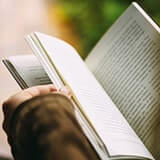 Proofread your paper: how to succeed without a computer
Jan 23, 2013
Proofreading has been around for quite some time; long before technological advances such as spelling and grammar check programs. In the past, in many cases, an editor or proofreader specializing in the field would handle the job of proofreading at a price. Though if relying on your own two eyes for proficiency in this area, it would be helpful to have a few strategies in place beforehand.
So what exactly is proofreading?
People often confuse
proofreading with editing
. Editing involves many things and is an overall revision of the text of a paper from word usage and language, to order, logic, and coherence. Proofreading on the other hand involves checking the text of a work for grammatical errors as well as spelling, physical formatting, and styling. Its considered the final overview of a work before its ready to be submitted for publication. And the hope is that if other areas were done correctly then this last portion will not be too hard to accomplish.
General tips to successful proofreading
Read aloud-several times
One of the best ways to spot areas in grammar or syntax is by reading your paper or
essay
aloud. Often times the combination of hearing and seeing will increase your ability to proof your work. And in many cases you may need to read the paper several times to accomplish this. If you've used this method before than you know that you will often catch something the second time around that you didn't see the first time. Why does this happen so much? The answer could be several things. One of which may be connected to making adjustments or corrections. Sometimes if you stop the flow of reading to make a correction it will likewise affect your ability to notice other errors. The hope is by the third or fourth time around you'll be able to read through your work completely without stopping to correct any errors.
Be aware of your shortcomings
Another great tip is to be in tune with yourself and where you fall short. If you know that you're a horrible speller be mindful of large or uncommon words. And if you always seem to get confused about punctuation issues, then you should double check with a grammar book to ensure that you applied all the rules correctly. Another way to find out where you fall short is to simply review some class papers in which a professor (concerned about this issue) took the time out to mark out the majority of your errors. This above all, is one of the most helpful means of finding out where you stand grammatically.
Leave and come back
Getting away from your work can sometimes be the most effective means of getting in a good proofread. This can be done with editing as well. When you can assume that your eyes have tired from writing, or you really can't bare to keep on reading, it may be time to take a break. These breaks allow your mind to 'breathe' so it can work more efficiently at
finding and correcting mistakes
.
Proofreading manually as opposed to using a computer
In most cases, considering the availability of computers in many public libraries as well as schools, its unlikely that you'll have to rely solely on your eyes alone to get you through a proofing job. But perhaps for reasons of personal preference you'd actually prefer to do your proofing manually as opposed to using a computer. This may be useful for some people.
One advantage to proofing manually is increased awareness and education regarding grammar mechanics. If you generally rely on an electronic program to correct your mistakes it's likely that you won't know exactly what you did wrong to avoid it in the future. Even if the computer program provides you with the exact reason behind your error, instead of really learning about it and examining it, you may simply take the suggestion(s) and move on. So in this way there is actually a clear benefit to proofing manually.
Next up, what steps can you take to proof without a computer? The steps are pretty much the same as proofing with a computer but a quick review may be helpful.
How to proofread without a computer
Obtain a copy of your paper or essay (handwritten or printed)
Read through it aloud (1-2 times)
Mark any mistakes that you notice (you may want to use proofreading marks but it isn't necessary, especially if you're checking your own paper)
Make the appropriate changes
Check areas that you are uncertain about
*Don't try to proofread alone - use a handbook, reference guide, or grammar book as well as a dictionary to check your mistakes
Often times we may feel confident in our ability to spell or write sentences grammatically. But for many reasons its very important to avoid proofreading without useful reference materials. Even if you have no access to a computer, or are not using one for proofreading, you should still have reference materials handy in a printed form. There maybe something that you feel is correct and its not; which happens quite often. Common examples of spelling errors for instance are homonyms, the i/e rule, and frequently confused words. These among other things, including
grammatical errors
, can be very hard to catch without assistance. Examples of some frequently confused words can be seen below.
Frequently confused words:
| | |
| --- | --- |
| There/Their/They're | You're/Your |
| Except/Accept | Than/Then |
| Whose/Who's | Affect/Effect |
| Where/We're/Were | It's/Its |
| Advice/Advise | To/Too/Two |
Final advice: Where did all your proofing time go?
Often times students may end up spending an hour or more proofreading a small piece of work. And the question is, are they really just proofreading? Probably not. If they are like most people they are actually combining the task of editing and proofreading. The choice is definitely up to the writer, but if concerned at all about the time that it takes to proofread, know that it is usually much shorter if it is not combined with editing. This key point may be relevant in situations in which people request help or hire someone specifically for the task of proofreading. In this situation it would be crucial to properly edit beforehand or inform the person that you are actually in need of both services; proofreading and editing.
back to all posts