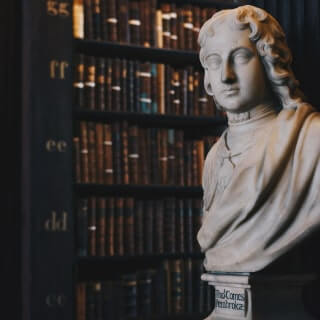 Paper on Shakespeare: how to find an interesting topic
As a student, in most cases, whether in secondary school or college, you can rest assure that you will be required to
write a paper on Shakespeare
at some point in your academic life. Though treading this path has now become relatively easy. The great amount of resources, support guides, tutorials and examinations of Shakespearean literature available today plays a major role aiding students to better understand and comprehend his literature. Examples of this include; explanations of the almost cryptic text that is present in most of his writings, as well as assistance in identifying appropriate topics to expand upon through writing. Likewise, selecting a topic for literary analysis in general, whether for Shakespeare or anyone else, can be a bit of a challenge and will require some time, effort, mental exertion and exploration on part of the student.
Choosing a good topic
With over 30 plays, and over 150 poems, it may be difficult to select a topic or even identify an area of interest in Shakespearean literature. One of the best ways to tackle this problem is to utilize a systematic method for identifying a topic and understand exactly how to analyze literature. Remember that literary pieces not only have the face value of a story, plot and characters, but also house many other issues such as literary devices, themes, writing styles and structure.
When trying to
select an interesting topic
, a great way to go about this is to skim down your options as best as possible. For instance, ask yourself, are you interested in analyzing...
characters in a story
settings and scenes
symbolism, imagery and other literary devices
popular arguments or debates on a particular writing
language and rhetoric
themes, underlying concepts and meanings
Once you've selected an area to investigate, narrow it down, for example, by considering whether or not you want to focus on one piece or several pieces of writing. Then continue in this manner, narrowing and narrowing, until you land on a suitable topic. This is called brainstorming.
Other issues to consider when choosing a topic are access to available sources and length. Maybe you only have access to the Shakespearean works in your textbook, or better yet, maybe you only understand the ones that were reviewed in class. Also, what if your paper only needs to be 3 pages long versus 15 pages long? In situations like this you can automatically limit your options for topic selection.
*Please see five detailed topic samples and explanations below.
Sample Topic #1
Recurring themes in Shakespearean sonnets and their relationship to poetic structure
In exploring this topic the first important issue to consider is the term 'structure' and what it refers to in poetic writing. The structure of a poem can be defined as its organization and any visible patterns or unique elements. The word theme, in general, refers to the main idea, purpose, or overlying message or concept. For poetry the theme refers to the poet's feelings, definition, or statement as to what subjects or topics the poem is about. *Note that one poem may have several themes.
A sonnet is a form of poetry that is distinguished by its set of fourteen lines and rhyming schemes. Shakespeare was known for using a unique variation of the sonnet which later became known as the Shakespearean sonnet. The particular rhyme scheme that it follows is abab cdcd efef gg and is structured into three quatrains and one couplet. These physical specifications are important when exploring connections to poetic structuring and meaning. And in the case of this topic, its an examination of the shifts in theme (according to each quatrain or couplet).
Considerable questions;
Which sonnets do I want to concentrate on in my paper? (Shakespeare has over 150 sonnets)
What are the recurring themes present in the sonnets and how will I analyze them?
Should I include other familiar Sonnet forms in my discussion such as Petrarchan and Spenserian?
#2
The significance of university education in Shakespearean plays: A look at three famous plays
In reading Shakespearean plays the connection that the author has towards university life and education is clearly exhibited by his several reference points and descriptions. With this topic, outside of identifying specific quotes you could also connect the concept to other works in the Elizabethan period and insert a brief historical analysis detailing the importance of education and the role that it played in the lives of everyday people. With that, you may be able to examine, for instance, whether Shakespeare had an abnormal obsession with this concept or if his mentionings were consist with the time period in which he lived.
Considerable questions;
What role does university education play in Shakespeare's plays?
What are the beneficial aspects of being a student and why might that be a memorable time for someone?
What are some specific examples of Shakespeare's reference to university life and education in his plays?
#3
Shakespeare's use of rhetorical devices and its role in Elizabethan writing
Rhetoric refers to the use of language in a manner that persuades as well as elicits an emotional reaction. There are several examples of rhetorical devices in Shakespearean literature; such as a multitude of metaphors, parallelism, similes and alliteration. When formulating an argument for this topic a student can extract and analyze examples in which Shakespeare uses these devices exceptionally well or, on the contrary, places in which the effect of a device was not as strong as it could have been or when he failed to accurately position it in the text.
Additionally, the second part of the argument would refer to the Elizabethan time period in which Shakespeare appeared and compare his use of these devices to other authors during his time.
Considerable questions;
How will you categorize the many rhetorical devices used by Shakespeare?
What are the major examples of rhetoric in his plays?
What is the significance of rhetoric in Elizabethan writing?
#4
Shakespeare's image of the courtier and his definition of courtly conduct
Its been noted through examination of his literature that Shakespeare places a special emphasis on the role of the courtier (as can be seen in his famous piece Hamlet with the characters Rosencrantz and Guildenstern). With this sample topic many issues connected to political life and the structure of government during the time of Shakespeare, as well as today can be analyzed by looking at the role of the courtier.
Considerable questions;
What role did the courtier play during Shakespeare's time?
What are some examples from Hamlet of courtly conduct?
How might Shakespeare's definition of positive or negative conduct be different from other people's interpretations?
#5
An in depth look at the symbolism present in Shakespeare's Othello.
Symbolism addresses abstract concepts or ideas in which one thing really represents something else. Since with many pieces of literature, symbolism is a major source of discussion, more often than not, any type of analysis of symbolism is a great topic to explore. There are many forms of symbolism in Shakespearean literature and one piece that houses some interesting points is Othello, though many others are just as suitable as well. Some examples of symbolism that have been cited for this piece are the symbol of the handkerchief and the candle.
Considerable questions;
What does symbolism add to literature overall?
What other incidences of symbolism are present in Othello and how are they interconnected?
What kind of job does Shakespeare do in observing symbolism and what does it say about his quality as a writer?
Final points
The vastness and complexity of Shakespearean literature can often be intimidating and discouraging to many students. Some of the most important things to keep in mind (1) are selecting a sizable topic that can be reasonably accomplished and (2) choosing something that is arguable and easily proven. Also for writing of this type, an examination or analyses of a literary element(s) should be present within the paper. To assist you with this point, simply browse a list of key literary terms and or devices in any literature book and look to see which issues would work best with the particular piece you are discussing.