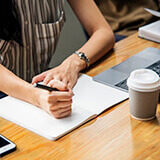 Outline writing: general guidelines
Feb 09, 2013
If you've ever
written a research paper
, then you probably already know the benefits of a good outline. Outlines serve many purposes, with the main one being, organizing and arranging information as part of the
writing process
. Outlines are also useful at different stages of constructing a paper; they can be used to help narrow down a topic, assist in generating ideas, and even check for unity and coherence.
So how can an outline help you?
Narrow down a topic
Often times when it comes to constructing outlines people only think of them in terms of organizing lots of information, but outlines can also be used to help further define a topic in the same way that a brainstorm list or a cluster web is used. Simply take your broad idea and add subtopics to it, and then more details to those subtopics, continuously as you would when constructing an ordinary outline for a paper. By doing this you can easily work your way from a broad topic to a well-defined one.
Make sense of your ideas/ as a guidepost
This second use is generally the most popular one. When preparing a paper there may be several ideas you'd like to discuss or elaborate on but are not sure of how to organize all of them.
Creating an outline
will help you quickly organize your ideas and provide a format and structure for your writing. Usually this should be done
after
you've identified and
organizational structure
. Doing so beforehand may waste time if organizational changes need to be made later on down the road. Secondly, after you've organized a preliminary outline, it can then be used to help guide you through your paper; making sure that you explain each point and help you identify any holes or gaps in your argument.
Check for unity and coherence in your paper
Sometimes even for those
writing a simple essay or paper
, not in need of a formal outline, (though its almost always a good idea) they too can benefit from an outline by using it to check their work. So instead of basing the paper on the outline, the issue is reversed, and the outline is based on the paper. In this way, you would list the subtopics and points as you find them in your writing, not how you planned them to be. By doing this you can check to see if your paper is really written in a logical and coherent manner, as well as to see if the content is unified. This is also a great way to find useless or 'filler' paragraphs in your writing that likewise need to be altered or deleted.
Present the contents of your paper to the reader
Once you've concluded your paper and are ready for publication you can also use an outline to assist you in creating a table of contents for your paper. Though the two differ, the table of contents is usually constructed from an outline as it can easily help you lay out all the contents of a paper. Though once you create a table of contents page(s) you must adhere to the formatting guidelines for it which are usually different from the formatting guidelines of an outline.
Types of outlines
When preparing an outline for organizational and guiding purposes there are two main types of outlines that are generally constructed; the sentence outline and the topic outline. The topic outline is usually the more popular one and simply involves
listing the various subtopics
that will be discussed in your paper. They are then followed by more detailed points about each one which are usually limited to a couple of words or a short phrase.
The sentence outline on the other hand, is obviously more detailed and instead of short phrases provides full sentences to explain each point. These outlines will definitely take more time to construct but are worth the effort for very long papers that may be complicated, or those that require a lot of specific information that you may not be able to recall off-hand. Similarly, some instructors ( in the process of teaching you how to conduct research and so on) may actually require a sentence outline from you to demonstrate the research that you've conducted thus far. Even without having to be forced to write one up, sentence outlines can be very useful and may save you a lot of 'back and forth' when it comes time to construct your first draft.
Formatting your outline
Most people are very familiar with the outline. You probably envision a list that includes some Roman numerals, letters and so on. But there is a formal way to go about setting up your outline even if everyone doesn't follow it all the time.
Step 1:
If you're creating an outline to guide you through your paper, or to help organize your thoughts, its best to first type out or
write out your thesis statement
at the top of the page. This will help you identify exactly what key points you should be addressing in your paper.
Step 2: Come up with sub topics or categories based on your thesis statement and list them using Roman numerals.
Step 3: Identify some logical points that would fall under each broad category and indicate them using capital letters.
Step 4: Start to use Arabic numerals (which refer to the numbers 0-9) to identify more details under the points that were just made.
Step 5: Use periods after all letters and numbers.
Example
Thesis: Children who are born as a result of marriage and are raised in a household where the parents are married perform better academically and are more emotionally stable than those that are not.
The general benefits of marriage

Financial stability

Statistically couples are better at saving money

Physical health

Married couples are less likely to experience certain medical problems
More chances of fidelity may prevent sexually transmitted diseases
*This small sample presented above only provides one major category of 'The general benefits of marriage', but other categories' would likewise be indicated using subsequent Roman numerals as well. Lastly, if required, even more information can easily be provided under the subpoints by using a lowercase letter to indicate further information.
back to all posts
By
Martha Buckly
. Martha is a good freelance writer and loves sharing posts on different topics including tips and guidelines for articles and academic writing. Her professional experience helps to create interesting and useful material.