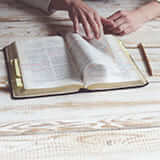 MLA Reference Style: Citing a Business Research Paper
There are two ways of citing your reference using the MLA Reference style. These are the in-text citation method and the Bibliography. The aim of the in-text citation is to provide brief information about your source. The following rules apply in all MLA Reference style:
Anonymous references should be cited by title
In-text citations should always have punctuations after the parenthesis
Reference list must be double spaced
Authors name must not be abbreviated unless the page title of the cited text expressly does so
Names of months should be abbreviated with May, June and July being the exceptions
The end of each entry must always indicate the medium the information was sourced from (e.g. Radio, Print, and Journal etc.)
The following MLA citation methods have been approved for books and journal articles.
Books - Single Author
In-text Citation
When citing a text in your research paper, make sure to include the author's surname and page number in quotes. There should be no commas or other separating punctuations marks separating the author's surname and page number.
Business administration is a system that encompasses all administrative duties in an organisation (Body 109).
If you are citing an entire work, it is necessary to include only the author's surname without page numbers.
Mathews is of the view that Marketing has been around for over 500 years.
Reference list
All authors cited in your research paper needs to be part of your reference list. Important words in the title need to be capitalized. It should follow in this manner: Last name, First name. Title with Every Important Word Capitalized. City: Publisher, Date. Medium.
Mathew, Kent. Concise Principles of Marketing. New York: Better Press, 2010. Print.
Multiple Authors
In-text Citation
The format for citing two or three authors follows the same format as the one for one author with the exception being that the two authors surname must be mentioned.
It is true that scientific strategies are now employed in Business administration as a means to an end (Keys and Bullock).
OR
Keys and Bullock argues that scientific strategies are now employed in Business administration.
More than Three Authors
If more than three authors are cited in-text, only the surname of the first author should be included.
Chang et al. opines that conservativeness plays a major role in the economy of state.
Reference list
The reference list follows this pattern: Last name, First name, First name Last name, and First name Last name. Title. City: Publisher, Year. Medium.
Karl, Price, Kelly Pierce, Bullock Lamb and Diana Ross. Building the Future. London: University Press, 2008. Print.
Journal Articles
The in-text citation of journal articles follows after the same pattern as the ones previously mentioned above. The only difference being that if you are quoting particular chapters or pages, you include both the author's surname and the page number.
It is the opinion of Mathew that the political instability in the country will "adversely affect the business climate which is already in tatters" (12).
Reference list
The bibliography for journal articles are basically formatted this way:
Author's last name, First name. "Article Title." Journal Title Volume number. Issue number
(Year): page numbers. Medium.
Scuttle, Marina. "Measuring Business Opportunities." Journal of Business Administration 12
(2012): 58-70. Online.