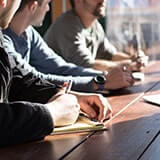 Know Your Audience
Often when we're busy with the process of researching and writing, it's easy to forget that we're writing for particular readers out there in the real world. In school that reader is usually an instructor or grader, but when you move out into the world outside school, your work might be read by anybody from your boss to website customers to coworkers. Because these groups of people will read your work differently, part of your job as a writer is to make sure your work matches their needs. And in order to do that, you need to know who exactly it is you're writing for.
Why worry about your audience?
Every time you sit down to write, the very first thing you need to do is identify your audience. Remember, you aren't writing for yourself; you're writing for a particular reader, and you want to make that reader's job as easy as possible. It's your job as a writer to tailor your work to the needs and skills of your reader so that they won't have to struggle with your work.
Chances are that you do this type of analysis every day without even thinking about it. For example, think about the things you type over the course of a day. Maybe you chat on Facebook to a friend, text with your mom, or email with a professor. In each of those situations, you fit your style and content to the audience. You're probably casual with your friend and maybe share embarrassing stories or gossip, while you likely don't share those same stories when you talk with your mom. On the other hand, you probably use more formal language to talk to your professor and focus on relating specific information, maybe a question about a test or a request to set up a meeting. When you write for school or work, you need to make a conscious effort to do the same thing.
What do you need to know about your audience?
It's not enough to just identify the person you're writing for: you also need to understand what they'll be looking to gain from reading your work and to anticipate any problems they might encounter.
Questions you need to ask about your audience:
What is their reading level?
Everybody's reading skills are different, so you need to write to match your reader's ability. Use vocabulary and sentence structure that will allow your reader will understand your ideas. For example, most newspapers are written so that an eighth grader can understand them, but if you're
writing for a college class
you need to use more sophisticated style and diction.
How familiar is your reader with your topic?
Different readers will also have different levels of familiarity with the
topic of your paper
. If you're writing about something technical, this might mean that you need to define the vocabulary and concepts you discuss, or you might be able to leave out all those details if your audience can reasonably be expected to know them already. Be careful, though, when you assume the reader will understand something, particularly jargon or technical terms. If you're unsure, it's always best to err on the side of caution: it's better to give your reader too much information than too little.
An obvious exception to this guideline is academic work in which demonstrating that you understand the concepts is the point of the paper. Obviously, if you're writing for a class, your professor is already an expert on your topic. In this case, instead of writing for you instructor, imagine that your audience is a reader who doesn't know anything about your topic. What questions would that reader have? What would they need to have explained to them?
How does your reader feel about your topic?
Are you going to be writing for an audience that already agrees with your main points or will you be attempting to change your reader's opinion? If you're writing about something controversial, then you need to be aware of how your audience will react and write accordingly.
What is your relationship to the audience?
Are you writing for someone higher ranking than you, such as a boss or instructor, or are you writing for your peers? Also take into consideration whether the audience knows and trusts you; if not, then you'll need to put more work into creating credibility for yourself in your writing.
What does the audience care about?
Is your topic one that the audience already cares about or will they need to be persuaded that your topic is important? If you think they won't be interested in what you're writing about, then you'll need to take time in your paper to emphasize the important of your work. Similarly, if there's an issue you know your audience feels strongly about, it's a good idea to include it in your work.
What do I want the audience to learn from my work?
Lastly, ask yourself what impact you want to have on your audience. What do you want them to take away from your work? Do you want to teach them? Change their mind about an issue? Put yourself in the place of your audience and anticipate what you would need to include in your writing to accomplish this goal.
What about academic work?
A lot of these questions might not seem important when you're writing for a class. After all, isn't your audience just your teacher? But it's important that you get in the habit of thinking about this issue no matter what you're writing, and you may find that going through these questions actually will change the way you
write academic papers
as well. For example, if your audience is your instructor, ask yourself what you know about your instructor. Is there a particular topic they focus on? How has he or she graded papers in the past? What kind of style do they prefer?
If you're not sure, don't hesitate to discuss the issue with your teacher. Every professor is different, so tailor your work to meet their expectations.