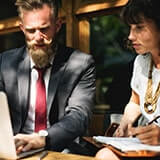 How to Choose a Right Master's Degree Program
The decision to apply to any graduate program is a serious one — it requires a lot of thought, planning, evaluations, and analysis. You need not only to consider the fee for a school you want to study in but also to:
Evaluate the quality of programs offered
Find out about its ranking and reputations
Study various aspects of the course schedules and their flexibility
One of the most important questions to answer while choosing a Master's program is, "Am I a good fit for that or this field?" The task is to assess your own competence and skills to understand whether you have chosen the right graduate degree, or it will be a useless challenge.
You may hear about a lot of successful people without proper education. In the same way, many students doubt a graduate degree regardless of whether it's a bachelor's diploma or Master's one. But, seeing that many graduates as experienced professionals with happy families, you understand that spending a few more years in the university or college is worth it.
A Master's degree program is best for students who want to obtain an extensive academic base and be more confident in their competence, experience, and employment in a company of their dreams. But, how to understand that the university is what you need and choose the right postgraduate course?
Step #1: Conduct a Self-Evaluation
Before you fill out the first application, take your time to figure out if graduate school is the good choice for this particular time in your life. Committing to a graduate program involves a lot of time, hard work, and sacrifice. No people who are responsible for that decision, except you here. There could also be different issues that require your attention and efforts, and you have to consider the following aspects:
Time
Finances
Debt
Family obligations, etc.
A Masters degree can take all your time and require you to be focused on education only. For that reason, "To apply or not to apply?" is one of the most important questions that you should answer at the very beginning.
The next thing for your examination is a sphere of your education. What if you have spent all those years studying something that doesn't interest you at all? Is there any variety of programs that you can apply to try your skills and knowledge? Now, different schools provide a wide spectrum of specialties, and you can choose the best for yourself.
Web design
Social media
Business administration
Public relations
There are far more opportunities for anyone! Ask yourself, "What am I good at?", and the answer can be your key.
Step #2: Go Tuition Shopping
Tuition cost is one of the main issues that you should deal with when looking for a Master's degree program. Graduate schools can be costly, so it pays to look around and keep your options open. Slight observations in pricing can help you understand the differences between in and out of state tuition programs. Is there any chance to save some money on education? Such options as scholarships or grants should also be counted.
Step #3: Consider Your Chances
Be realistic with yourself! It's good to aim high for schools that have a lot to offer but bear in mind the selection process and application fee for each school. That can be a taught decision to make, but try to analyze the following points attentively and assess your chances.
How many students does the school accept into their program every year?
Can you know the committee decision earlier and select another option?
Do you have a variety of schools to apply to if you don't get accepted to this one?
Also, according to the policies of many universities, you are required to have a particular GPA, and — that number speaks louder than words.
Step #4: Courses and Schedules
For individuals working full time or taking care of their families, a flexible schedule is a crucial component to their Master's program. Thankfully, there are many credible and relevant graduate degree programs available online. It can help people make good use of the time that may otherwise be spent in traffic. Students should also look at the course descriptions to match classes with their schedule. Some course titles may seem ideal but don't satisfy the necessary program prerequisites. Here, you can be picky and create your perfect curriculum.
Step #5: Credibility check
This stage entails analyzing the overall quality, reputation, and credentials of your choices. Many schools have a nice web page but are lacking in proficiency and functionality. Some things to consider are:
How long the school has been in business
Whether they are recognized and accredited
Their ranking compared other schools in a state
Accreditation is also very important for certain disciplines. For instance, if a governing body doesn't certify your particular Master's program in that field, you may find it difficult to become a licensed professional.
Step #6: Examine the Program's Approach
For many disciplines, graduate students find themselves conducting different research and professional level tasks that can help them develop new theories and contribute to the corresponding science. That's far beyond the undergraduate school and may include internships, extensive research projects, dissertations, and other endeavors. Hence, you will want to be aware of the primary goals, objectives, approaches, models, and principles of each program. What is the school known for? What overall message does a particular department send? What types of organizations are they affiliated with?
Step #7: Your Personal Principles and Beliefs
One of the worst things to do is to pick a program where you will always argue other students because your own beliefs and principles go against theirs. When choosing a school, try to prefer not the fact of how popular it is but how its principles resonate with your own.
Step #8: Know Your Professors
Grad school can be seen as a place to fine-tune your skills and sculpt your career. And the body of faculty members present will have a great impact on how well or poorly this experience goes for you. Don't miss a chance to investigate the credentials and expertise of professors — sometimes the staff of seasoned professionals is more trustworthy than a bunch of newbies.
Step #9: Resources and Support Services
Resources to consider when choosing a Masters program are:
Tutoring and advisory services
Technological and library resources
Affiliations
And in some cases, depending on your field of study, support services such as job assistance are extremely important. Most people would like to get help with finding a career, and some opportunities can be difficult to seize without the support of counselors.
Step #10: Pick Up the Phone
You graduate school searches may be limited to the information provided on their website — pick up the phone and contact the committee directly! You'll have the chance of getting out a few questions that you couldn't investigate. This last touch may be just what's needed to help you make that final decision.