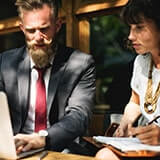 How to choose a Master's program: 10 steps
Jan 10, 2013
The decision to apply to any graduate program is a very serious one. It requires a lot of thought, planning, evaluations, and weighing of multiple factors. Not only do you need to consider the cost of a prospective school but also the quality of programs offered and the flexibility of course schedules. Seeing that many graduate students are professionals with families these compiling issues are all the more important when it comes to balancing school, work, and family.
When choosing a master's program the first step needed to jumpstart the process is actually a pretty subtle one-it involves sitting down and asking yourself a few important questions.
Step #1: Conduct a self-evaluation: are you ready for grad school?
Before you fill out your first application, set aside some time to figure out if graduate school is the right choice for you and for this particular time in your life. Committing to a graduate program involves a lot of time, hard work, and sacrifice. Though this may be suitable for some people it may not be for others. Issues such as time, finances, debt, and family obligations should all be heavily weighed before applying to any grad school.
Step #2: Go tuition shopping
Though people do enjoy dwelling on superficial things, tuition cost are real, and should be one of the main issues addressed when looking for a graduate program. Graduate schools can be very costly-some around $1500 per class- so it definitely pays to shop around and keep your options open. Slight dips in pricing can add up overtime as well as the differences between in and out of state tuition programs. Also any extra efforts such as scholarships or grants should also be sought out.
Step #3: Consider your chances of being accepted
Be realistic with yourself! Its good to aim high for schools that have a lot to offer but bare in mind the selection process and application fee for each school. For instance; How many students does the school accept into their program every year? Will you be given an early decision? What are your options if you don't get accepted to this particular school? Also you should seriously factor your GPA into the equation-that number definitely speaks louder than words.
Step #4: Research course descriptions and scheduling
In many cases scheduling can make or break a course. For individuals working full time or with families to care for, a flexible schedule is a crucial component to their masters program. Thankfully there are many credible and suitable graduate degree programs available online. This provides for many benefits including, making good use of precious time that may otherwise be spent in traffic, parking, and walking to class. In addition to scheduling, prospective students should also take the time out to read through course descriptions in order to match them with their desired program of study. Some course titles may seem ideal but in reality do not provide the contents one is looking for or satisfy the necessary program prerequisites.
Step #5: Do a credibility check
This entails checking out the overall quality, reputation, and credentials of your top choices.
Many schools have a nice webpage but are lacking in proficiency and functionality. Some things to consider are (a) how long the school has been in business (b) whether or not they are recognized and accredited (c) and their ranking among other schools in their state. Though some schools may not be ranked, listing in this way is sometimes useful when deciding between two schools (though these list can be limited in scope).
Accreditation (outside of the general accreditation for graduate schools) is also very important for certain disciplines. For instance, if your particular masters program is not accredited by a governing body in that field you may find it difficult to become licensed by that organization upon graduation.
Step #6: Examine the programs approach and focus
For many disciplines, as a graduate student, you will find yourself conducting a large amount of research and professional level task beyond the basic assignments that came with undergraduate school. This may include internships, extensive
research projects
,
dissertations
and other endeavors. Because of this you will want to be aware of the primary goals, objectives, approaches, models, and principles of each program. As this may affect the way you are expected to perform and handle assignments. What is the school known for? What overall message does a particular department send? What types of organizations are they affiliated with?
Step #7: Do some more soul searching: What are your personal principles and beliefs?
Considering the professional connections made, time and money spent while in grad school its worth your while to really examine where you stand with certain issues and how you personally will fit into a particular program. One of the worst things you can do is pick a program that you suspect that you will 'bump heads' with most of the people present because your own beliefs and principles go against theirs. This may not be relevant to all disciplines but those that touch on a lot of sensitive humane issues, for instance, should consider this.
Step #8: Get to know your teachers
This obviously is a very important step due to the size and intimacy of most graduate programs. Grad school can be seen as a place to 'fine tune your skills', and 'sculpt your career'. Therefore considering the degree of mentorship and counselling that comes along with the graduate school experience, the body of faculty members present will have a great impact on how well or poorly this experience goes for you. Also look to investigate the credentials and expertise of teachers; as a staff of well-seasoned professionals will usually fare better than a panel of newbies.
Step #9: Compare resources and support services
Resources to consider when choosing a masters program are tutoring and advisory services, technological and library resources as well as noteworthy affiliations. And in some cases, depending on your field of study, support services such as job assistance, are extremely important. Though most people would like help finding a job, some more specialized careers may be difficult to break into without the help of job support counselors.
Step #10: Pick up the phone
This last step can be considered putting a 'human voice' to an otherwise online presence. In other words-in most cases school searches are limited to the information provided on a school's website. But its also important to pick up the phone and contact the school directly. Not only will you get a feel for the professionalism of the staff and their mannerisms in dealing with people, but you'll also have the chance of get out a few questions that maybe you couldn't find the answers to online. This last touch may be just what's needed to help you make that final decision.
back to all posts