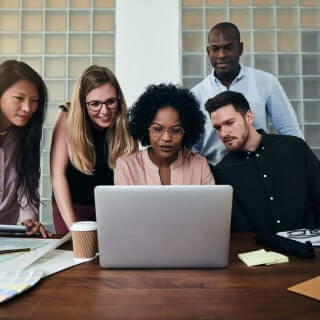 Honing Your Audience Awareness
Writing always serves a purpose. Whether you're jotting down a grocery list or working on a novel, when you open your laptop or put pen to paper, you're trying to accomplish something. For
academic writing
, that task is usually demonstrating that you understand the material from a class or presenting the results of your original research. Ideally from the moment you sit down to write you'll be keeping those needs in mind and shaping your paper to meet those goals.
There are lots of ways you can make sure that your paper is achieving what you set out to accomplish, and one of the most important of these is tailoring your paper to fit the needs of your reader. No matter how good your writing is, if it doesn't match the needs and abilities of your reader, then all your work will be for nothing.
What do we mean by "audience awareness?"
When we're writing, most of us usually start by focusing on what we want or like. If there's a particular style of writing we like or a format that we find easy to work with, chances are most of what we write is going to end up looking that way. But in reality, most writing isn't done just for the sake of the writer. Instead, it's meant to be given to an audience. In school, this audience is usually a teacher, but out in the real world your audience might be anyone from your boss to followers on a blog.
Whether it's a professor, a dissertation committee, or an online community, the audience for your writing matters, and you should be adapting your writing to fit their needs. This knowledge of your reader is what's known as audience or reader awareness. Basically, whenever you're writing you need to be aware of your audience and able to anticipate how they're going to respond to your work.
What does the reader need?
What the reader needs is different from what you as the author need. As an
academic writer
, you might be concerned about using fancy language or demonstrating your knowledge by including lots of extra details in your work, but the reader doesn't really care about your wording or how amazing you think you are. What they want is to get the information they require quickly and with as little effort as possible. They don't want to have to wade through pages of extra background or try to parse complex sentences; when it comes to academic writing, communicating your ideas plainly and concisely should always be your goal.
Where is reader awareness important?
Different audiences are going to bring different abilities to the table, which is why it's important that you consider your readers while you work. Below are a few examples of writing situations in which it's important to be focused on understanding your reader and meeting their needs.
Tone
No matter who you're writing for, the tone of your paper should match the expectation of your audience. In academic writing, you need to be aware of issues like diction and grammatical conventions that will make your work seem overly casual or informal. Remember, in academic work it's always best to be objective and leave your personality out of your work. On the other hand, when you're
writing response papers
or persuasive pieces, you can adopt a more friendly or personal tone.
Word choice
Modifying your vocabulary to match that of your readers is an important part of making the reading process as easy as it can be. If you're writing for people outside your field, then you should avoid overly technical language, and when you do need it, those words need to be defined clearly. Conversely, if you're writing for an advanced audience that's familiar with your topic, then don't waste time telling them definitions that they already know.
It's also important to match your vocabulary with the level of the reader. For example, most newspapers and magazines are written at a middle-school reading level, but when you're working in academia, obviously your word choice needs to be much more advanced. If you're writing is too casual, then the reader is not going to take your work seriously.
Introductions
The introduction of an
academic paper
provides the reader with all the information they need to understand your work. Keeping this in mind, the question to ask yourself before you start writing is how much does your reader already know? Will you need to go into a lot of detail in your introduction, or will the audience be able to follow along with only a broad outline. You should also ask yourself just how much information will the reader really want? While you might think the historical background of your topic merits three pages, the audience might find this excessive and loose interest quickly.
Introductions also serve an important purpose by telling the reader what to expect. Remember, while you may have spent the last few weeks or even years working on this material, your reader likely doesn't have any idea what you've been up to. So, before you launch into detailed background information, spend a few paragraphs outlining your work and giving the reader a roadmap. Think of this as the introduction to the introduction: just like you wouldn't want to jump into a book or movie right in the middle, your readers don't want to launch into your work without having some idea of where it's going.
Grammatical uncertainties
When we're learning about grammar in school, it can often feel like all those rules are set in stone. End a sentence with a preposition, and your teacher is bound to get out the red pen. But in fact there are lots of grammatical rules that aren't really rules at all. Sometimes there are old guidelines that have been abandoned, and there are often grammar "myths" that were never true to begin with but that have been repeated again and again anyway. Not ending a sentence with a preposition is one of those rules, as is the rule not to split infinitives.
Often these ambiguities mean you have a lot of leeway when it comes to writing style, but not always. This is where knowing your audience comes in: being aware of the grammatical guidelines you need to follow will ensure that your work is well-received. So, even if you know it's perfectly fine to split your infinitive, if your teacher tells you not to, then don't. Similarly, if you're writing to be published, then you should be aware of the requirements for that particular publication.
Organization
As you're creating the outline for your paper, ask yourself how you can best organize your ideas so that the reader can easily follow along. Remember, your paper should move from paragraph to paragraph and from section to section seamlessly and logically, otherwise your reader is going to be confused or lose interest. Also keep in mind that readers aren't familiar with all the details of your work. They only know what they've read, so make sure that any information that readers need to understand a particular point has been explained earlier in the paper.
How do you hone your audience awareness?
Keeping the needs of the audience in mind can be a difficult task. Especially when you're working hard on a particular piece of writing, it's tricky to gain the perspective you need to analyze the effectiveness of your work. A good place to start is to think about the audience before you even start writing. Make a list of the specific objective you want to accomplish within your paper and also a list of adjectives that will describe the finished work. When you're done, you can go back and review your list to check whether you've met all your goals.
Once your paper is done, you can find out if it fits your audience simply by asking them: find someone who will read your work, then ask them to identify areas that they found confusing or difficult. If you can't find a friend or classmate, try a teacher or tutor who can help you take a step back and look at your work objectively. New readers, particularly those unfamiliar with your topic, will be able to point out your blind spots and logical missteps.
The best method to improve your audience awareness isn't writing at all: the simple act of reading is the only way to really understand what it means to write for somebody else. After all, you won't know what it's like to be a reader unless you sit down and do some yourself. Look through academic works and pay attention to how writers address the issues listed above as well as to the parts of the writing you find particularly effective or ineffective. This process can give you examples to follow when you want to create a specific tone or format. Most importantly, reading will help you understand what it's like to walk a mile in your reader's shoes.