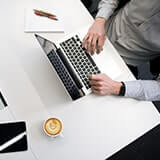 Dissertation Abstract Writing: An Action Plan
Writing a dissertation
can often seem like an impossible task. It can take years of planning, research, and rewrites to complete. And after all that work, writing the abstract seems like it should be easy - after all, nobody knows your work better than you do. It can often be extremely difficult to summarize the sometimes hundreds of pages of information you've painstakingly put together into one simple paragraph. It might be tempting to quickly throw a few sentences together and be done, but the abstract is actually a very important part of your dissertation. It's the first, and often only, words a reader will see, which is why it's vital to take the time to craft an abstract that is concise and easy to read.
Abstract Quick Facts
Length: 100-500 words.
Placement: after the title page and before the introduction.
Structure: a brief paragraph describing the paper's focus, methods, results, and conclusions.
What is an Abstract?
An abstract is a paragraph that provides the reader with summary of your dissertation. It will be very different from the introduction, which will likely be much longer and provide the background information necessary to understand your research. Instead, the abstract will summarize your research's main focus, methods, and conclusions. The length of your abstract will depend on your dissertation, but in general they are between 100 and 500 words long. They should never be longer than a page. Many publishers have strict word limits for abstracts, so make sure yours fits within the required range.
Why is the Abstract Important?
The abstract is the first section of your paper that readers will see, and will often be the only part of your paper others in your field will have the opportunity to read. In fact, abstracts will often be read independent from the rest of your paper, and so they need to be able to stand alone. Many journals and conferences will use abstracts to determine a paper's suitability for publication or presentations, which makes writing a good abstract an important part of getting your work seen. Also, because copyright laws prevent publishers from making entire papers available online, most databases will make only the abstracts publicly available. For example, those without a subscription to services like PubMed or Ebsco can still search for and view abstracts.
What Should Be in an Abstract?
An abstract should condense the important points of your research into a single paragraph. A person who has read your abstract should come away with an understanding of what you set out to study, how you studied it, and what your conclusions were.
The structure of your abstract should mirror the structure of your paper and include five main points:
Research focus. The abstract should open with one to three sentences stating the topics the paper will cover and the specific issue being addressed.
Methods. Provide one or two sentences that explain in general terms how the work was done.
Results. Use one to two sentences to describe what you uncovered in your work.
Conclusions. Finish the abstract with two to three sentences discussing your interpretation of the results.
Keywords. Many publishers will ask you to list keywords at the end of the abstract.
Usually the abstract will be a single block of text, but some journals will ask for specific headings in submissions. For example, many scientific journals will require that abstracts be divided into sections labeled Background, Purpose, Method, Results, and Conclusion.
How To Write an Abstract
Although it comes at the beginning of the paper, the abstract should be the last part of the dissertation to be completed. Because it contains a summary of everything in the paper, you will need to have a very clear idea of your focus and conclusions before you begin to write the abstract.
Start by reviewing the body of your paper and identifying the important parts of each section. Remember, you want to distill the essence of your paper into just a few hundred words. Can you
write the question
you are attempting to answer in just one sentence? Which of your results are vital to understanding your conclusions? What is the single biggest idea the reader of your paper should take away?
Once you've identified the key points, you're ready to write the abstract. Keep in mind that it should mirror the structure of your paper: there should be an introduction of the topic, a description of the methods, a list of results, and a summary of the conclusions. Keep the sentences short but detailed - you're trying to pack as much information as possible into a single paragraph.
After the abstract is complete it can be edited for clarity and length. If possible, have someone unfamiliar with your work read the abstract to help you gauge how well it conveys the content of your dissertation. And lastly, make sure to edit the abstract for grammar and spelling. Remember, the abstract is the first, and sometime only, part of your dissertation people will see, so you want to make sure it's an accurate, clear, and readable summary of your research.
Abstract Dos and Don'ts
The style of an abstract will vary from field to field, but below are a few general rules to follow:
Avoid using the first person (e.g., I, we, our).
Don't refer to information found in other parts of the paper such as figures or tables.
When discussing completed work use the past tense.
Don't include citations or references to other works.
Avoid wasting words on overly general statements like "The purpose of this paper is..." or "The results show..."
Don't include information in the abstract that isn't found in the body of the paper.
Keep sentences short and concise.
Include keywords in the abstract to ensure it will show up on database searches.
Use active instead of passive verbs (e.g., you can replace "It has been shown that..." with "research proved that...")
Don't waste words by repeating the title.
Always follow formatting guidelines, including margins, font size, and word limit.