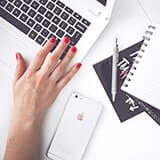 Article writing: how to make your work interesting
With the popularity of
online articles
, more and more writers and content creators are looking for ways to engage audiences through interesting and compelling articles. Articles that not only provide useful information but can also keep up with the intrigue and enticement of a good novel. Likewise, outside of online material, those hoping to gain spots in print publications or have other purposes in mind, will similarly have
captivating an audience
as a primary objective in their writing.
Whether you're already familiar with the common methods of engaging your audience, and just need quick refresher, or are new to writing and would like a good edge to begin with, the following tips will hopefully suffice you.
Tip #1 Write something you care about
One of the best ways to grab your reader's attention is to put a bit of passion on the page. Not only is writing something you care about usually more fun for you but the reader usually can also recognize this and will be more inclined to read what youve prepared. Sometimes when we write about things that have a special meaning to us we can find alternative ways to think about or analyze the issue, as well as add more of a personal flare and flavor to what is being written (if appropriate). Which leads up to the second tip.
Tip #2 Add a personal anecdote
The evidence that personal anecdotes fair very well in most articles can be seen in the popularity of personal-interest stories. Many popular magazines are flooded with personal-interest stories that often sell their publications. Even if you're not writing an article that resembles this, adding a short personal anecdote to your writing can break up the monotony of the article and even give the reader a better understanding of the point or message you are trying to convey.
Tip #3 Bump up the examples and illustrations
'Paint your audience a picture.' With illustrations and examples this is exactly what you set out to do. This tip is great for complicated or technical articles that can sometimes be hard to understand. Providing several examples and illustrations (though not too many) can easily make the article that much interesting for the reader as well as leave them feeling more satisfied with the material. *Examples are usually more general whereas illustrations (literally 'illustrate' something with words) can be very descriptive and detailed.
Tip #4 Provide powerful numbers
Numbers often scream much louder than words. For instance, a statement like Over 123,000 people have been killed by this in the past three years, is much more powerful than the statement, Many people have died from this over the past three years. The term 'many' doesn't carry nearly half of the weight of '123,000.' So the benefit of numbers in some situations is pretty obvious. And even though you can't find statistics for everything, and it wouldn't be appropriate to insert them repeatedly throughout your article anyway, just having them handy for some points is definitely a great means of engaging your reader and boosting their interest in a topic.
Tip #5 Carefully and tastefully add emotion
Along the lines of interest, emotion is one of the key elements to add to an article's level of intrigue and amusement. This will more times than not come across in the author's tone or attitude in writing. A writer's tone can reflect most emotions; excitement, joy, tranquility, anger, anxiety, frustration, humor etc. And sometimes even the most general or mundane article topics can be livened up with selective word choice and style.
For example, a simple article on cleaning carpets can be conveyed to the reader as 'a joyful and peaceful experience' by focusing on the end product-a soft and clean rug to roll around and stretch out on. Or it can be depicted as a depressing event by using vivid words to describe the dirt and grime connected to cleaning up dead skin cells along with the hard labor that may be involved.
Other means of adding emotion to writing can be seen with narratives and storytelling. Writing of this type can easily have emotion added to it through its character's actions or dialogue. And since nowadays the trend seems to be 'show don't tell' you may find your audience more intrigued with expression of emotion through action rather than dialogue.
Tip #6 Know your literary devices
Another route to take when searching for ways to improve your ability to interest your reader is to grab a literary dictionary and start hunting. Sometimes there are some really useful techniques, even if commonly used, that you may need to focus more on in your writing. One example is figurative language.
Figurative language
Figurative language is often times a highlight of
narratives
and
descriptive writing
. It includes many colorful things such as metaphors, similes, alliteration, imagery and the use of 'sound effect' words known as onomatopoeia. Though these elements are actually well-known by many, some people fall short in their actual application of them; especially for online articles. Adding these in a graceful manner can really separate your article from all the rest as they undoubtedly require a decent amount of thought and creativity in order to produce.
Parallelism
Another useful element to throw in is parallelism. It involves bringing a similar grammatical structure to your sentences (that is, where a 'parallel structure' is present). Sometimes used in persuasive speeches, this little tip can work well to drive a point home to your audience and even improve their level of comprehension. Its simple and easy to implement. An example would be the long lasting effects of the war are immobilizing, suffocating, and crippling. Here the last three words are all in the same tense and represent a parallel grammatical structure.
In addition to these tips mentioned, important issues to also consider when working to captivate a reader is whether or not your introduction is lacking something. Similar to the abstract of a scientific report, your introduction is sometimes the first and only thing the reader will see from your article. So to make it work for both of you, spend a considerable amount of time crafting your first sentence and identifying exactly what few statements or phrases will lock in a guaranteed audience.