APA Style Essay: Formatting Rules
Oh, this long-awaited moment when you finish writing the last sentence of your essay and put the last full stop. You are absolutely sure that you followed all the structure rules, you have spent several hours in order to provide your paper with pertinent facts, examples, and references, and your conclusion is truly impeccable. However, what about formatting? What if your academic assignment is APA style essay, and now you need to think about all the requirements for this format. After all, sometimes it's exactly the formatting that might affect the grades, and no one wants their paper to be a C or B- grader. The biggest mistake here is that many students don't pay enough attention to such aspect of the assignment as the necessary formatting. So, what are the peculiarities of APA style essay format? Is it really so important to know? Is it complicated to follow? How to make your APA essay entirely correct? Let's relax and meet the challenges step by step. Be sure that, with our professional advice, you will forget about any worries concerning these three letters - APA.
How to write an APA style essay
Before getting to the APA essay, you are to understand what are you going to deal with. The Publication Manual of the American Psychological Association (APA for short) is the style guide published by the American Psychological Association. It is specifically designed for social and behavioral sciences, but it is also commonly used in other disciplines, particularly nursing. Like other style guides, it covers a broad range of topics, including research paper formatting, tables, and figures, citations, and grammar questions. Here are some points that are usually considered when you deal with essay writing in APA style:
Margins. Use 1" margins on all four sides of the page.
Indentation. Indent the start of a paragraph ½ inch from the left margin; indent block quotations 1/2 inch from the left margin as well.
Font. Choose a standard and easy-to-read font like Times New Roman. Also, the APA requires the use of fonts without serifs. (Serifs are the little bars put at the end of the strokes of a letter. For example, Times New Roman has serifs, but Arial does not.)
Size. Use 12 point font.
Page numbers. Number pages consecutively in the upper right-hand corner starting with the title page. Do not include your name next to the page number.
Spacing. Double space the entire paper, including block quotes (quotes longer than 40 words) and the references.
Title page. The APA style essay title page should include the title of paper centered in the middle of the page, followed by your name and school affiliation, also centered and double-spaced. At the bottom of the page (also centered), you can include an author's note that gives specific information about the class or acknowledgments.
Running heads. APA formatting requires a running head on every page. The running head is a short (less than 12 words) summary of your title that appears at the top of each page aligned left. The header on the title page should read "Running head: TITLE." All subsequent pages should list the running head in all caps aligned left.
How to write an APA style essay? There is a number of helpful guidelines you can use to improve your paper and facilitate your writing process.
The first step is to pick an exciting topic for the future essay. You should be confident that it will draw the attention of the audience, and you will be able to convey and explore it in detail.
Approach the research process thoughtfully. If your topic is quite specific, you are to be sure that you can find all the necessary and pertinent material to ground your ideas and evidence well.
Keep in mind that your topic shouldn't be too broad or narrow; otherwise, you will be overwhelmed by all the information or won't find enough of it.
Start your preparation in advance. Perhaps the search for some books, articles, interesting materials and their processing can require a lot of time.
If you use any direct quotations, you are to format them appropriately, and don't forget to mention each of them (the source) in your References part.
Draft your APA essay. It will help you avoid any possible mistakes. You will have an opportunity to proofread your text and make any adjustments immediately without the risk of getting a reduced grade.
There is one more step you are to make in order to prepare ideal writing is to create an APA style essay outline. It is important to see whether all the parts are equally informative, valuable and logically structured. We want you to look at our very generalized example to understand better what you are expected to do.
Introduction with your thesis statement (depending on the essay type)
First paragraph and its central idea
Background source(evidence, an example from real life, etc.)
Second paragraph and its central idea
Background source
Third paragraph and its central idea
Background source
Conclusions with an answer to your introduction statement (or its paraphrasing)
Despite the fact that the APA essay format is demanding enough and you must be extremely attentive to the details, everything becomes much easier after you study each feature individually and follow all the instructions step by step. Take your time, be diligent, and your perfectly formatted essay will lead you to success in your academic performance.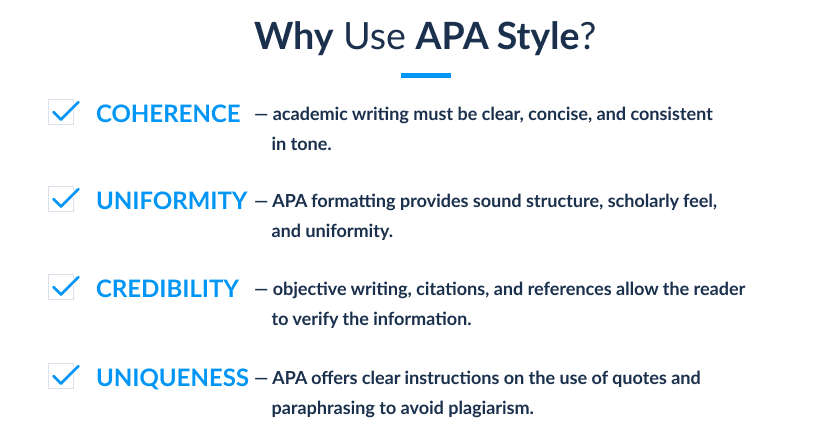 Also, remember that we can always help you with any types of assignments. If you don't have the necessary time or do not want to waste it on another paper - you are always welcome to use our services. We guarantee timely delivery and A-level quality!