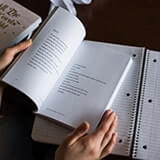 Admission essay editing guidelines
The college admission essay is similar to other essays in that it should be engaging, properly formatted, organized and clearly answer the questions related to it. Yet unlike other essays it may just be the one thing that turns a no into a yes during the admission process. Maybe some reviewers will only skim your essay, others may read it in full, and some may barely read it at all-the reality is, you just don't know-so you should aim to do your best regardless.
Editing your essay
is a crucial final step in the writing process. In this article we will discuss the special attributes of admission essays, important self-check questions, and what key areas to look for when evaluating your paper.
So what's unique about this type of essay?
The topics for admission essays usually center around your personal thoughts and experiences. They may ask you about your opinion regarding a certain social issue, your own personal triumphs and fiascos, future goals and aspirations or what things contributed to your development as a person. Additionally, this type of essay should be concise and to the point as well as clear and presentable (consider formatting your essay using a standard method such as
MLA style
).
Before moving on to the mechanics of your paper such as tone, organization and grammar you may want to ask yourself a few important questions to make sure your writing is of a good quality and pleasing to the reader.
Editing your admission essay: Three self-check questions to jumpstart your review process
1. Is this a recycled paper?
A recycled paper is just that-recycled. Its similar to a "utility" paper in that you use it over and over again for different reasons - whether for college, high school or any other purpose. Its difficult for papers like this to hold special or unique characteristics simply because they have to fit multiple objectives. It is better to write a new paper for each application even if some ask you similar questions. Take the following for example;
"What single person has made the biggest impact on your life and why?" and "How has your family affected your views of life and society?"
Both are related to individuals in your life and though they have similarities (for instance it may be a family member that is the one person that had the biggest impact on your life) they should both be addressed separately to highlight the specifics of each question. For example, in the first question you should give precise examples of how that one person has changed or influenced your life (cause and effect) while in the second question you should focus a lot on your views of the world and life and specific attributes of multiple family members; looking at cultural considerations, personal lifestyles etc. Lastly, a good reason to stay away from recycled papers for your admission essay is because its very likely that the reader is well aware that it is a recycled paper and it may affect their decision.
2. Did I write anything too offensive?
Always remember that each person that reads your paper has their own history and background. Their opinions may not be yours. If you think that a subject is questionable or maybe sensitive to some try to steer clear of it to avoid offending the reader.
3. Am I writing from my heart?
This may sound a bit cliche, but writing from your heart is very important for this type of essay. Being yourself is your best advantage. Its likely that admission staff have experienced many people trying to "impress" them by attributing false claims to themselves or exaggerating life details and accomplishments. Be sincere and genuine in your writing and hopefully it will come across in your essay and aide you in your acceptance.
Evaluating your paper step by step
All essays need to have certain key characteristics. Listed below are six common areas to address when evaluating your paper.
1. Thesis: Did you clearly communicate to your audience what you will be discussing? Your thesis statement should be one or two sentences that precisely indicate the main argument of your paper. admission staff, just like any other person, will most likely be searching for this statement when reading your essay. Try to include it near the beginning of the paper to be a clear sign of what is to come.
2. Purpose: Hopefully in writing your essay you have a little bit of fun exploring what it is to be you. But don't get carried away. Double and triple check to ensure that you actually answer what was asked of you and any supplemental questions involved. It would be very disappointing to write an astounding piece of literary work only to find out that you didn't even answer the question that was asked!
3. Audience: Does your paper engage your audience? You want to make sure your paper is interesting and easy to read. It should not sound like a book report or a scientific abstract. Since you will most likely be writing about your own personal views and opinions you should be able to easily make it enjoyable to read. Don't be too lax and risk sounding rude or unsophisticated but remember that your reviewer has probably just read about 50 or so papers from people just like you-so make sure you stand out from all the rest and grab their attention.
4. Voice & Tone:
Your voice is what sets you aside from other writers. It is your own sentence style, attitude, feelings and ideas. Tone is more specifically your attitude toward what you are writing about and who you are writing for. Your tone could be light, medium or very strong. When writing formal
academic papers
you may go for a strong authoritative tone, or light when writing a journal or an informal blog. Your admission essay should take more of a middle course, still being refined, having a formal appearance, but also making room for personal experiences, humor and wit.
5. Organization: This aspect is very important for producing fluent, presentable pieces of writing. One of the last things you would want is to have your wonderful ideas disregarded because of a messy paper. admission reviewers especially will want to see a well-organized paper that demonstrates your ability to put ideas in a logical, sequential order.
For example, if asked to describe your long and short-term life goals start your writing from the short goals moving on to the long ones. Also go in order of importance; for instance, if having children is more important to you than starting a business you would start by mentioning having children.
6. Elaboration: Do the details you present support your thesis statement? Your support sentences should provide, clear pristine evidence to back your main argument or objective.
For example, if your
thesis statement
indicates that you will describe how you have demonstrated your leadership abilities in school, your support statements should provide examples of this such as you leading a class project or club and the outcomes of each situation.
7. Language: Check to make sure you use appropriate language in your paper and avoid slang and trite expressions. Also ensure that you used proper grammar, spelling and usage of terms. Insufficiency in this area makes an overall bad impression and may suggest that you would not be a good fit for the school!
Overall the editing process for your essay should be quick, efficient, and uncomplicated. Try to stay away from enlisting multiple editors (such as friends and family) and using ideas and principles that are not your own. Honesty and good merit are some of the most important attributes of a winning essay.