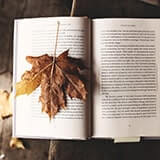 Writing About: the Hard Sciences
While there are plenty of basic rules that apply to any type of writing, all disciplines have a set of guidelines that are specific only to work in those field. After all, a paper on Shakespeare is going to look pretty different from a paper on protein structure.
Here are the things you need to know if you're going to
write a paper
about hard sciences like chemistry, physics, and biology.
Voice: passive
Style guide: CSE, AIP, ACS
Person: 3rd
Central argument: research question/hypothesis
Organization: IMRAD
Types of science papers
Empirical studies/research paper
If you're working in the sciences, the most common type of paper you'll be writing will be research papers. That is, you'll be writing up the results of your own research. Whether it's an undergrad independent study project or a dissertation, the basic rules of writing will be the same.
Lab reports
If you're taking a lab class, you will likely be asked to write about the results of your work in a lab report. These will be similar to research papers, but will usually be shorter and require less background research.
Literature reviews
A literature review is an overview of the available research on a particular topic. Sometime they will be stand-alone assignments, although they are usually included in a longer work such as a research paper or dissertation.
Proposals/grants
If you plan on doing original work, you will likely need to submit a proposal that explains your research question and how you plan to go about answering it.
Note: this articles won't cover the many types of papers specific to the medical profession such as case reports and clinical procedures.
How to write about science
IMRAD
If you're going to be writing about empirical research, whether it's a class assignment or a years-long research project, you'll need to know how to organize your work using the
IMRAD model
.
I for introduction: start your paper by introducing readers to your topic and providing the background information necessary to understand your work. Begin by discussing broad issues in your field, then narrow the focus down to your particular topic. You'll likely need to include an overview of the past and current research related to your work, although sometimes this information is included separately in the Literature Review. The introduction should also explain why your particular topic is important and what hole in the current research your work fills. Lastly, the introduction should include your research question and hypothesis.
M for methodology: in the methodology section (also sometimes called materials and methods), you should explain how your experiment was carried out. This includes the details of your experimental design, what equipment you used, and your data collection methods. A reader should be able to recreate your experiment with the information in the methodology section.
R for results: next you should give the results of your work. This section should only include a summary of your data and any statistical tests you performed. There should be no analysis or interpretation of the results-you'll be saving that for the next section.
and D for discussion: the discussion is the meat of your paper. It's where you interpret your results and explain why what you found is important. This is your chance to tell the reader what your data means and to place your research in the broader context of your field. It's also where you should discuss any problems or shortcoming in your work.
Writing about statistics
Having a strong understanding of statistics is vital to writing well in the sciences. Not only will you need to be able to explain the details of your own work, but you'll also need to be able to discuss other people's research as well. When you're writing about your own work, focus on narrowing your data down to a few key statistics that describe your work. Remember, you don't want to include all your data - just dumping tables of raw numbers in your results section will frustrate and confuse your reader. Instead, present analysis that's easy for your audience to understand. This will usually mean descriptive statistics like means and standard deviations as well as statistical tests that quantify correlation.
Tables and figures
Tables and figures are often the best way to present your findings. They'll allow you to organize your results in such a way that the reader can quickly grasp the importance of your findings. In general, tables are used to show individual sets of data. If your data takes up 9 or more cells (i.e., a 3 x 3 table), then you can put it in a table; if a table is smaller than that you can just list the values in the text. Graphs are used to show the relationship between sets of data, i.e., changes over time or comparisons between treatments. Other figures you may need include photographs, maps, or illustrations. Refer to the style guide for your discipline for information on formatting tables and figures.
Citations
Research never happens in a vacuum - anytime you're writing about science you'll be referring back to the work done by others before you. When you discuss other people's work, you need to include a citation that gives the reader more information about the original source. The specifics vary among disciplines, but in general you'll need to provide an in-text citation with either the author's name or a number that directs the reader to a list of cited works at the end of the paper.
Style
Passive voice
It's convention in most scientific disciplines to write in the passive voice so that the work seems impartial. This means that instead of writing "We measured the results of the treatment at two and four weeks," you would write "The results of the treatment were measured at two and four weeks." Not all journals require passive voice (in fact, some don't allow it all), so if you're working on a manuscript, make sure to check what kind of style the publisher prefers.
3rd person
Similarly, you want to avoid the use of the first person in
scientific writing
to make it seem as objective as possible. If you absolutely have to refer to yourself, use "the authors," for example: "Albert (2003) found that treatment was enough to affect tree growth, but the authors' data suggests the opposite."
Verb tense
Research papers should be written in the present tense except when you're talking about the specific methods you used or you're citing already published data. In those cases you should use the past tense. When writing in grants or proposals about work that will be done at a later point in time, use the future tense.
What to avoid
Leaving out bad data
Just because you didn't get the data you wanted doesn't mean it isn't valuable. When deciding which results to include in your work, don't be afraid to write about results that contradict your hypothesis or that complicate your conclusions.
Overconfidence
It's tempting to talk up your results - we all want to think that the work we do is important. But not every research paper is ground-breaking, so don't go overboard when you're discussing your conclusions. The reader will be able to see if you're making claims not backed up by your data, and inflating your work will lessen the impact of your actual conclusions. Also be wary of "proving" anything. In science you can only say that your data does or does not support your hypothesis-no matter how good your work is, it's not "proving" anything.
Formatting mistakes
All the sciences have their own conventions for writing specialized language like chemical and species names, equations, and abbreviations, so make sure that your paper fits the accepted format for your field.
Flowery language
Scientific writing should be as clear and concise as possible. Use simple language and avoid unnecessary adjectives, prepositional phrases, and other wording that would distract the reader from the content of your work. Also avoid being overly casual: don't use contractions and stay away from any attempts at wit or humor.
Mixing the results and conclusion
The results section is specifically for presenting your data to the reader. There shouldn't be any analysis - that is restricted to the conclusion section. Similarly, the conclusion is for a discussion of the data, and no new information should be given in the conclusion.
Not knowing your audience
Write for you audience. You need to know who's going to be reading your paper so that you can know how much detail to provide. If you're writing for a professional journal, there's no need to explain common terms or concepts that readers will already know, but if you're writing for an audience outside your field you may need to take the time to explain vocabulary, methods of statistical analysis, or well-known studies.