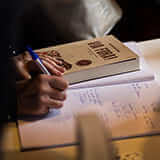 Term paper help: writing and researching tips
Oct 05, 2012
The term paper or research paper is a widely-known token of academic achievement. This declaration of educational merit is required in many places of learning from high school to graduate school. With it a student demonstrates his or her ability to proficiently collect, organize and present data in a clear and structured format. Its completion is often a momentous task for new or inexperienced students, otherwise they can always search for
term paper help
.
The key to successfully overcoming the term paper is to properly learn and implement its procedure. Once broken down into intelligible parts success is not far off. In this article we will focus on important writing and researching advice for term paper preparers by looking at the main stages of the research process:
Developing a workable topic,
Identifying audience and purpose
Writing the thesis,
Creating a research plan and following it,
Drafting your paper,
Revising it
Editing and proofreading.
Narrow your topic
Few students approach a research paper knowing exactly what they will cover in detail to the point that all they have to do is start researching! Most topics, even if assigned by a teacher, need some fine tuning. The objective of fine tuning is to produce a clear, manageable and concise research paper topic. There are many methods of narrowing your research topic. The most common one is to look at one specific aspect of the subject you're interested in studying.
For example, if you would like to research information on childhood obesity, you would need to further refine your topic by indicating a specific aspect of childhood obesity and a particular group or region that is affected by it. So for instance, your topic could be specifically identified as the growing incidence of childhood obesity in America (to refine it even further you could also state a group of children such as low-income or upper class children).
A student should be able to reasonably explore all or most of the issues connected to the growing rate of childhood obesity in America or search for online
term paper help
with unique ideas. Thus, by refining we've produced a sizable topic for research that is not too narrow that we cannot find enough information to review nor too broad that it cannot be thoroughly accomplished in one paper.
Clarify your audience and purpose
More often than not, term papers are done for academic purposes. Therefore we can assume that your teacher or professor will be your key audience. But are they the only person you intend to share your work with? Your research efforts, especially if done well, may reach a much broader audience far beyond your professor's pile of papers. Hence, you should write your paper with those other hundreds or thousands of people in mind as well.
Some questions to ask yourself; Who would find my topic interesting? Which age group and education level will most likely be picking up this paper? Will high school students be interested in my work? Researchers, professionals, scientists? Keeping these people in mind when constructing your work should result in the usage of appropriate language and explanations as well as suitable details that will be appreciated by the reader.
Next, why are your writing? The answer is simple. Usually the purpose of a term paper is to inform or explain. Though in some instances your paper may go a bit beyond explanation, for example, if your topic is somewhat controversial. If that is the case you may want to do a bit of convincing or arguing as well.
Construct your thesis
Developing a lucid and comprehensive thesis statement takes some time. Initially you may formulate a working hypothesis or thesis to start your research. After conducting research you may find that your thesis needs to be revised and therefore would proceed to make the appropriate changes. A thesis statement should be concise; at least one or two sentences near the beginning of your paper that clearly state your argument or main objective (i.e. what you will be accomplishing throughout your paper).
Create a research plan and follow it
A research plan may be considered the most valuable asset to your research endeavor. A well-thought out plan will allow you to locate potential resources faster and provide more precise and focused results. Overall it should save you a lot of time as well. Simply make a list of things you want to find (general facts, statistics, biographies, anecdotes, interviews etc.) regarding your topic and write down where you are likely to find that information. Try to be specific in your pinpoint list by jotting down a detailed description of your potential resource.
After you've identified your sources begin collecting the data (books, journals, articles, reference books etc.) and start reading! Use term paper help or read thoroughly all material to ensure great note-taking. Lastly, record your notes on notecards for optimal organization.
Writing or drafting tips
Before you start to actually
write your paper
you will want to figure out how you will organize the information you gathered and create an outline to assist you in writing your first draft. Research papers may be organized using several methods. Once you look over your notecards and what you've learned thus far you can choose a technique that best suits your topic and research. Some suggestions are as follows;
Organizational Techniques
Chronological
Cause and effect
Order of importance
By region or place
Evidence based
Problem-Solution
Comparison and Contrast
The Outline
Now that you've figured out how to organize your paper create a working outline to follow. Your outline should indicate the main point, topic and subtopics you plan to cover. An example based on the topic discussed earlier is as follows;
I. Childhood obesity in the 1980's
A. Midwest America
1. Statistics
After creating your outline you can now begin writing your paper. Remember to support your main objectives through details and support statements. Your paper should show a variety of support such as interviews, statistics, examples, quotes etc.
Revision Strategies
You can revise your paper in a number of ways. The key things to look for when revising include; sentence fluency, details that answer the 5W's (who, what, when, where, why) paragraph format, whether or not your paper satisfies its objective, and word usage.
*One tip to utilize when revising is to highlight all your topic and conclusion sentences. This will help you identify whether your paragraphs are properly structured.
*Likewise, you can also underline your verb phrases and replace them with concise and specific verbs.
For example, rather than saying "This article makes things clear by..." you can say "This article clarifies by..."
Edit and proofread
Lastly, add the final touch to your paper by checking for errors in spelling, grammar, and punctuation. You may also choose to review formatting concerns by checking to make sure any quotations are properly imbedded in your paper as well as citations (you may use footnotes, endnotes or parentheses).
Work cited page
Most term papers should include a work-cited page. Be sure to keep track of all your sources throughout the research process to make things easier when it comes time to create your work-cited page.
Your term paper writing process should be greatly simplified with the implementation of the above tips and strategies. Remember that revising is different from
proofreading and editing
. You can quickly proofread your paper but proper revision may take a considerable amount of time and effort.
back to all posts