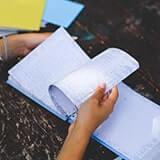 Stressed with a newly assigned topic? How to start the research
Approaching a fresh research endeavor can sometimes be a little intimidating. This is because, in many cases, a lot of uncertainties quickly come to surface. Where do I start? How do I choose a good topic? What if the topic doesn't work out? These and many other questions can be answered by following a few simple steps to kickstart a successful research project. One of the first of them being - carefully reading your research assignment to ensure that you fully understand what is expected of you.
Step 1: Identify exactly what you're being asked to do
All research projects are not the same. There are several different approaches that can be taken towards research, which are well known such as; qualitative, quantitative, primary and secondary research. Depending on your field of study and discipline you may find yourself conducting surveys and experiments or relating theories and concepts to already existing data. Regardless of the type of research, one of the most important things you can do is to read and reread your assignment. The last thing you would want is to race down a particular path of research only to find out that you need to go directly back to the starting line.
Step 2: Select a good topic
Choosing a topic to research
is usually the most difficult aspect of the research process. There are many options to choose from and you want to be sure that you pick one that will work out well for you in the long run. As a rule of thumb its always best to choose a topic that;
Is broad enough to be adequately researched with the resources available to you
Is narrow enough to be explored and evaluated in the confines of your paper
Is interesting and engaging enough to sustain you and your audience
These three elements are usually the ingredients for a great topic. The tough part is finding a good balance between all three. You may not always get to write about a topic that you are really interested in but at the very least try to make sure that whatever topic you do choose meets the first and second requirements.
These three elements are usually the ingredients for a great topic. The tough part is finding a good balance between all three. You may not always get to write about a topic that you are really interested in but at the very least try to make sure that whatever topic you do choose meets the first and second requirements.
Also when searching for a topic we often look for sources of inspiration. These are hoped to guide us in landing that amazing, award-winning, and thought-provoking topic. Though it doesn't always happen that way, some common places to find interesting subject matters to research may include;
personal background and cultural concerns (for instance you may choose to investigate something that always puzzled you about your own culture or heritage)
if a student, popular class debates and discussions (your instructor will likely be pleased that you chose a topic that is connected to class sessions which shows that you have not only been paying attention but also plan to incorporate important lesson concepts and theories)
newspaper and magazine headlines (sometimes scanning these may help to generate ideas on a variety of topics, and depending on the publication you'll likely be exposed to several different subject matters to give you even more options to ponder over)
Step 3: Narrow your topic
Likely even after you've selected a topic, more work needs to be done. This work comes in the form of further narrowing down your broad topic. Also in many cases, once you begin your research you'll find the need to narrow your topic even further to either accommodate the sources you've collected or to provide a better angle or perspective on your posed topic. Some interesting ways to narrow your topic include:
Apply the 5 W's, who, what, when, where, and why.
These simple but comprehensive questions can quickly take a broad topic such as 'stressful occupations', and turn it into a very workable research topic.
For instance, using the above topic, you may ask 'Who has a stressful occupation?' or 'What are stressful occupations?' As you continue in this manner you will see that the more questions you ask the more narrow your topic becomes. So after applying these questions to the above topic you can now focus on a specific group of people that tend to have stressful jobs or certain fields that are stressful and why. Another good idea would be to refine the research topic by combining two or more of W terms provided.
Example: A more refined research topic using both who and what would be;
The personality patterns of deployed military personnel
With this example, we took the 'what' question and honed in on a specific stressful occupation such as being deployed for the military. And then we took the 'who' question and focused on finding out exactly what type of people generally take on this stressful job as a deployed military employee.
Think of a specific discipline's approach to the topic; which may not be your own.
Even if you are not in business or psychology fields you may decide to approach your topic from the angle of a business major or psychologist. Therefore using the above example, 'thinking like a psychologist' you may decide to analyze the psychological effects of experiencing 'burnout' for example. Additionally as a business major you may look at the salaries of different stressful jobs, their position and status as compared to other occupations and what specific aspects, from a business perspective, make those jobs stressful.
Perform light research on the topic that you've selected to gain more information on any subcategories or interesting focal points.
Light research in this area can be comprised of simple internet searches, questioning professionals, or browsing through trade-specific publications. Again using the
stressful occupation
example, this can be done by simply typing those words into a search engine and reading a few articles about stressful occupations. By doing this you may come across some specific concepts or ideas on the topic that will work well for a
research project
.
The research question
Your preliminary research steps should end with identifying a suitable research question. Each research project should have a research question and an answer to that question (which is your thesis statement). Formulating a research question is as simple as adding some of the 5 W's (along with 'how') to your refined topic. For instance, a research question could be What are some of the distinct personality patterns of deployed military personnel? or How are military personnel unified in their personality traits?
This last component of formulating a question will lead you to the research phase of your project; which is identifying a suitable research strategy and obtaining the sources needed to cover your topic.