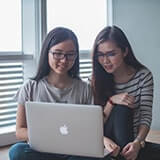 Making Sense of Your Research
The research process can be daunting. You don't have to just collect sources (that's often the easiest part!), but you also need to be able to see the relationships between all the information you've gathered. Whether you're working on a paper for a English class or finding the background information necessary for a chemistry project, the basic challenge is the same: you need to collect, categorize, and analyze as many sources as you can in order to fully understand your topic. But once you have a pile of books and a hard drive full of journal articles, how can you begin to understand what it all means?
Unsworth's primitives
John Unsworth is an information scholar who researches and writes about the digital organization and referencing of humanities resources. In 2000, he gave a presentation in which he discussed the "scholarly primitives" (full text available
here
), which are what he calls the basic academic functions performed by researchers across disciplines and time periods. He introduced them as a way to understand how we interact with digital texts, but they're also very useful to those of us who struggle to find the "right" way to do research. Taken as whole, these seven ideas create a roadmap for doing research and can guide you through the process of finding, evaluating, and effectively using resources in your own work. You probably already do some of these already, but by breaking them down and looking at them category by category, you can get a
good idea of how researching and writing work
. These seven steps provide a roadmap for good research, and can help you build the foundation for a great paper.
Finding resources
Discovering
The first step in doing research is simply finding out what's out there. This is a whole topic in and of itself, of course, and where you go to look for information will vary by discipline. However, the basic first step in research is the same: you need to get and look around. Find books,
journal articles
, or websites that cover your topic, and ask people like advisors and librarians for advice on the best place to look. Another good idea is to check the references for any of the works you find particularly interesting-those citations are like a trail of bread crumbs that will lead you to new ideas. The more you immerse yourself in the research that's out there, the more information you'll find.
Annotating
Once you've found sources, the next step is to read them closely and take notes. After all, it's no use doing all that reading if you're not going to be able to find what's important to you in the text and also keep track of it all. Annotation is the practice of writing notes in the text as you read, and good annotations will help you in two ways. The first is simply that it makes it easier to organize everything you're reading. Noting keywords and main ideas either directly on the text or in a system like Cornell notes will make it quick and easy for you to go back days, weeks, or ever years later and find texts related to a specific idea (even long after you're forgotten the details of a particular work). The second important task of annotation is to get you as a reader actively involved in the text. Instead of just passively taking in information, you'll be processing what you're seeing and getting started on the task of identifying important ideas that will be useful to you later. So as you're doing your research, take copious notes along the way.
Comparing
An important part of understand sources is comparing them. It seems like a simple idea, but it's at the heart of any good research paper. Look for ideas that appear in a wide variety of texts, and take note of how those ideas are used by different people in different ways. Also keep an eye out for how issues like experimental design and particular theories develop and change over time, and pay special attention to topics that are contentious. Every field has its share of debates and professional disputes, and it's in those differences that you'll find the good material for a
research paper
.
Referring
Research never happens in a vacuum. There are always other scientists and scholars out there thinking, experimenting, and writing about the same topics that you're researching, and every book or journal article is part of a larger conversation. This interconnectedness means that you can't just look at a resource in isolation, but instead need to be able to see how works fit together. If you're reading a critique of a novel or learning about the latest new lab technologies, you need to be aware of how those works refer back to other published texts. Knowing how texts fit together is also an important part of writing your own paper, since you'll need to be able to correctly refer back to the resources that made your work possible.
Using resources
Sampling
As it's used here, sampling refers to need to choose the works that you will use in your research and writing. In the course of your research you probably turned up dozens, if not hundreds, of sources that may or may not be useful. Now, as the writer, it's up to you to decide which of these are important. Clearly, the criteria you use to decide what merits being cited in your work is up to you, but what's important is that you have a clear idea of how sampling will affect your paper. What you choose to put in and what you choose to leave out will shape the argument of your paper and likely influence how those reading your work will view it, which means you need to be able to defend all the decisions you make when it comes to your citations.
Illustrating
Next up is the daunting task of using your research to
write your paper
. The whole point of academic writing is to illustrate a particular point, and you should use the resources you've found to paint a vivid picture that explains the nuances of your argument. There are a number of ways resources can be used: they can provide background for your work, give an example of a theory or method, or clarify definitions and ideas. When doing research, it's helpful to keep these ideas in mind so that, when the time comes, you're ready with the right citation that will provide a needed insight or clarification.
Representing
The last task for an
academic writer
is to pull all these ideas together for the reader. You've done the work; now you have to make sure that the work you've done is represented on the page. It's often the case that how we present information is just as important as what we have to say, and academic writing is no different. In fact, this is an especially important step when it comes to classwork, since teachers usually want to be able to see that you've put in the hard work it requires to do good research. So, when you're working on your research paper, think about all the steps you've gone through to get to where you are and how best you can show that progression on the page. Your teacher or professor wasn't there to see the hours and hours you put into collecting and analyzing sources, so it's up to you to show them.