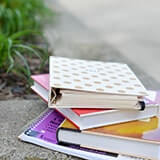 Writing About: History
Nov 30, 2012
While there are plenty of basic rules that apply to any type of writing, all disciplines have a set of guidelines that are specific only to work in those field. After all, a paper on Shakespeare is going to look pretty different from a paper on protein structure.
Here are the things you need to know if you're going to write a paper about history.
The basics
Voice: active
Style guide: Chicago or Turabian
Person: 3rd
Central argument: thesis statement
Organization: PEAL paragraphs
Types of history papers
Research paper
By far the most common type of history assignment is a research paper in which evidence from primary and/or secondary sources are used to support an argument.
Response paper
History classes may sometime require you to
write a response paper
in which you analyze specific readings from the class.
How to write about history
Types of sources
No matter what kind of history paper you're writing, you'll likely be citing other texts as evidence to back up your argument. There are two main types of sources used in history papers:
Primary sources: Materials from the time period you're discussing are known as primary sources. This might be books, magazines, personal diaries, or advertisements - basically anything that provides insight on issues from that time. These are often used to argue for a certain interpretation of an event, person, or time period.
Secondary sources: Materials written by scholars that analyze previous historical events are known as secondary sources. The most common of these are books and peer-reviewed journal articles. They are often used in papers where you want to compare or analyze how a certain historical event is perceived.
Keep in mind that a source can be either a primary or secondary source, depending on how you use it. A book covering World War II published in the 1960s can either be a primary source (for example, if you're discussing changing attitudes about war in 1960s America) or a secondary source (if you're writing about World War II).
Good and bad sources
History papers
will sink or swim depending on the quality of the sources. If your argument is relying on primary source materials, you need to be especially careful about evaluating the merits of those sources. Ask yourself these questions to ensure you're using good sources:
Where did the source come from? Is it from a government agency? A commercial publication? Did you find it in a library or on the internet? Give more weight to reliable sources and be sure to note in your paper if the information you're using comes from a dubious source.
Is the author reliable? What details of their background are necessary to understand the important of their work? Make note of any problems that might come from the author.
What potential biases might the author have had? Often in history we're reading materials written by people personally involved in politics, wars, or other important events, so it's important to understand what biases the author brings to the table.
Is it representative of other works from the time period? Don't base your argument on material that is exceptional or inconsistent with other works from that era.
The reader also needs to know the answer to many of these questions. You can't just plop down the name of your source and be down with it - you need to give the reader context so they can understand the important of the information. Who wrote it and when? Who published it? Who was the intended audience? What factors make this piece of evidence particularly convincing or unreliable? Prove to the reader that you've done the research and that the evidence you're providing is accurate and being used correctly.
Secondary sources should also be vetted properly. Try to stick with established peer-reviewed journals or books by respected historians, and stay away from questionable sources like personal websites and blogs.
Organization
Most essays in history can be organized into three general areas: the introduction, body, and conclusion. In the introduction, you introduce your topic and provide context for the historical time period you'll be discussing. At the end of the introduction you'll present your thesis statement, which sums up the
main argument of your paper
in one or two sentences. The body of the paper is where you present your evidence, and in the conclusion you'll wrap up your argument. Depending on the length of your paper each section can range from a paragraph to several pages.
PEAL paragraphs
The main task of a history research paper is to make an argument using primary and secondary source material as evidence. This means that every paragraph in the body of your paper should provide evidence and analysis of that evidence, both of which support your main thesis. The PEAL method is a good technique for writing these types of paragraphs.
P for point: start the paragraph with an introductory sentence that transitions into the new paragraph and tell the reader what the new topic will be.
E for evidence: next, present your evidence. This is usually a quote, statistic, or something else from a primary or secondary source that you're citing to prove your argument.
A for analysis: after you give your evidence, you need to tell the reader why it's important. This should be the meat of the paragraph; a good rule of thumb is that the analysis should be at least twice as long as the quote you use.
L for link: finish the paragraph with a sentence that link the analysis back to the main thesis.
As you get comfortable with
PEAL paragraphs
you can make them more complex. For example, you can use two pieces of evidence in a single paragraph and in the analysis demonstrate how they both support the topic sentence.
Footnotes/endnotes
ost history papers will be written using The Chicago Manual of Style, which encourages the use of footnotes. This will be where you cite your sources, but you can also use them to provide extra context or information that is not vital to your argument but which you still want to include. Often this is material that would take up a lot of space and interrupt the flow of your argument if you included it in the main body of the paper. Whether you use footnotes or endnotes is usually up to you, but pick one and stick with it throughout the paper.
Chronology
History scholars are very sensitive to errors in chronology, so be aware of how you incorporate evidence into your paper. This doesn't just mean getting your dates right though; it also means that you need to place historical events in the correct context. Be aware of the time period your sources come from, and don't attribute anachronistic thoughts or actions to your sources. Also be careful not to analyze sources only in terms of present-day events or schools of thought.
Style
Active voice
Use the active voice to make your writing clear and engaging.
3rd person
Avoid using the 1st (I, me) or 2nd person (you) in your writing.
Tense
For obvious reasons, history papers are written in the past tense. These events have already happened, so use the past tense to place them chronologically.
What to avoid
Personal biases
Writing about history
can often be an emotional experience, and if you're not careful your own personal viewpoint can sometime color your work. Question yourself carefully to ensure that your argument is supported by all the evidence and that you're not being influenced by your personal feelings. Also be sure to acknowledge your own personal biases and privilege, especially when writing about a culture other than your own.
Relying on one source
Because so much of history is a question of interpretation, it's important to provide more than one source when presenting your argument. Not only will it improve your paper by making it look more reliable, but by doing the extra research you'll also be exposed to different versions of events. Understanding how different parties see the same event and analyzing these differences is an important part of any history paper.
Grandiose statements
When writing about important historical events it's tempting to start or conclude with grand, sweeping statements about why this particular topic is important (i.e., "since the beginning of time..." or "people everywhere..."), but you'll want to avoid this in your paper. Keep the paper focused on your particular argument.
Missing the footnotes
The style of history papers heavily favors footnotes, which, while sometimes tedious, are still an important part of the work. It can be tempting to skip or skim over the footnotes when doing research, but if you do you'll be missing important information about sources and context that will enhance your understanding of a secondary source.
The benefit of hindsight
Make sure that you're analyzing historical events in the context of the time in which they happened. With the benefit of hindsight it can be easy to question or criticize the choices of people in different time periods or cultures, but your job is to understand how and why historical events happened, not to pass judgment.
back to all posts