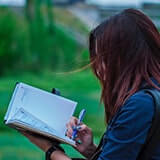 What Does a Good Essay Need?
Aug 13, 2012
Exceptional essay writing skills are not something one is born with; one needs to work very hard to come up with essays of impressive quality, and this is especially true if you are attempting to write a college or university level essay. If you are a college or a University student, you already must be aware of the fact that a good essay should persuade readers through evidence. However, you must also understand that University level essays have their own set of rules, expectations and conventions and hence demand specialized communication from the students. This post is a humble attempt to help students with a practicable, meaningful guide to develop essay writing skills, thus helping them come up with
good essays
.
Quintessential Elements of Quality Essay Writing
1.
University level essays are exceptionally rule-bound, and hence to come up with a quality essay you must understand and realize the instructor's expectations from you. Once you have a clear understanding of the question or topic, the next step is to raid the library to gather relevant material. Shaping and reorganizing the collected material will help you constitute an original essay of good quality. It helps to remember that originality is the most important element of an outstanding essay.
2.
Once you have the necessary material with you, the next step is to organize your ideas and arguments that you intend to use in your essay. An experienced tutor can easily identify an essay that is well structured and organized, and a good essay structure will certainly help you earn some brownie points.
3.
Many students consider essays to be a series of unsupported personal ideas; however, they could not be farther from the actuality. One must support your arguments and ideas with apt quotations. Moreover, it is also essential that your evidences are accurate. It helps to remember that no quotation can work for itself; you must employ it to suit your own essay writing purposes.
4.
Facilitate your reader with an evidence of extensive research, reading and understanding of the topic in hand. For your essay to be considered good, you must try and include at least four or five references. It must be stressed here that basing your essay on just one or two books can take a heavy toll on the quality, and inadvertently on the grade of your essay.
5.
When it comes to essay writing, very few students understand the need of an appropriate style. While many students prefer to write essays in first person, tutors prefer essays that are written in third person. However, an occasional use of 'I' is appreciated, especially when a personal view is expected in the essay. It is also quintessential that one adopts the right tone; it is best to address a reader who is reasonably well-informed on the topic but is not an expert as such a tone will motivate you to include even the minutest details that can of immense interest to the average user.
6.
Last but not the least; try to include some humor in the essay. Conversely, it is important that you do not over do the humor part, as some times the reader or instructor might not share your sense of humor.
By keeping the above points in mind while writing an essay, you are sure to come up with an impressive piece of writing, provided you also pay due attention to aspects such as avoiding
slang, spelling, grammatical and punctuation errors
.
back to all posts