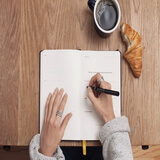 Topics for an English Essay
Oct 14, 2012
"Write what you know." When it comes to picking a topic for your
English essay
, that piece of advice has merit - to some degree. You
should
choose a topic that you have an opinion about and that you are at least somewhat familiar with. Choosing a topic that you care nothing and/or know nothing about is a good way to sabotage your essay before you even begin writing it. On the other hand, you will (hopefully) learn more about your topic while writing about it, gaining new knowledge and perspective during the process.
Before you latch on to a certain topic, take a little time to evaluate it. Do a little brainstorming to see if you can quickly come up with some general estimates about how you will be able to support your ideas, and try to come up with a brief plan of development; i.e., will you utilize a
cause-and-effect
format? Will you present an argument and try to persuade the reader you're correct? Will a more informal, narrative style essay be more effective? Dedicating a little time to the prewriting process can go a long ways towards saving you time and headache later in the process.
Your thesis statement should be sufficiently narrow as to allow you to support it thoroughly. And your rhetorical mode (e.g. cause-and-effect, compare/contrast, classification, etc.) should also complement the type of essay you are working on. The topics below are broad enough to still allow for some variation in terms of thesis statements and rhetorical modes.
Compare (and/or Contrast) Two Stories That Have Similar Themes
When you compare two things, you should discuss their similarities. Conversely, to contrast means to tell how they are different. You need not do both in your essay. In fact, it's often difficult to do justice to your topic if you try to do both. Again, you want to sufficiently narrow your thesis statement.
A point-by-point format will often lend itself to the
compare/contrast essay
. If you were comparing
Romeo and Juliet to West Side Story
, you could discuss the way each story addresses forbidden love. Next you might tell the similarities between the stories on the topic of family strife. Then you might point out how each story deals with the theme of destiny. Your thesis statement should make it clear whether your essay will compare, contrast, or do both.
Show That Social Networking Sites Damage Intimate Relationships
Your goal with this type of essay is to prove a point utilizing deductive logic. For example, in a very simplified form, your deductive line of reasoning for the above topic might go as follows: Intimate relationships require physical contact. People cannot physically be in contact with one another via a social networking site. Therefore, social networking sites are harmful to intimacy.
Notice with deductive type essays, your purpose is to prove a point that you've already stated. In this respect, it's similar to a persuasive type essay. You can use deductive rhetoric for various kinds of topics, but be sure you make your view clear and that you have the ability to prove it somewhat logically.
Why Kids Drop Out of High School
This type of essay will likely take on a cause-and-effect format. While you may be tempted to discuss all of the aspects of why something happened, it's better to focus on just a few. That way you can concentrate on effectively developing your points in the limited space you have for your essay. To that regard, you may even choose to focus just on the causes, or on the effects. The key is to try and present a well-developed understanding of the nature of your topic.
"Falling in with the wrong crowd, lacking a family support system, and having to begin employment at a young age are three problems that may lead to students dropping out of school" may be a good thesis statement. Choosing three causes allows the reader to present a more unified paper.
How to Become a Better Writer
Essays that explain a process should show the means to an end, and you'll need to establish some kind of order for this. Chronological order, spatial order, and emphatic order are some of the typical methods used in how-to type essays.
In the case of the how-to-become-a-better-writer topic, the author of the essay may choose to list the steps in sequence according to some time line (spatial order), but it could also be effective to present the steps in order of importance (emphatic order). Whatever order you choose should be made clear in your thesis statement. For example: "Making the commitment, learning your audience, and being honest with yourself are the most important steps to becoming a better writer."
A Childhood Memory
First, be sure this is something you're comfortable sharing with your reader. If you're hesitant about going public with a particular story from your past, you'll find this topic difficult to write about.
This type of essay could be a good fit for a narrative-type format. A narrative basically means that you're telling a story, so it should have a clear beginning, a middle, and an ending. With
narrative-type essays
, it's critical to present a thesis that makes a point. For example, "My father's drinking had a profound effect on me" is too general. Your reader needs to be able to see from your thesis that the story is leading somewhere. "My father's excessive drinking during my childhood years resulted in my joining the Army" shows the reader that the narrative will have a clear direction and point.
A Reaction to a Current Event
The key with this type of essay is to choose a subject that you have strong opinions about. Perhaps you feel strongly that a certain Governor is a two-faced liar who's only interested in reelection. Chances are you've got plenty to say about his/her recent activity.
A thesis statement for this kind of essay should make your personal opinion clear, and such a topic lends itself to using an
argumentative-type essay
, with lots of first person (I) point of view. To strengthen your argument, however, be sure you have access to plenty of information to support your point of view, whether newspaper articles, a debate, or interviews (and be sure you properly cite any of the resources you quote, summarize, or paraphrase in your essay.
Define What It Means to Be a Scholar
With this definition type essay, you want to examine what it means to be a scholar by illustrating it with examples. What qualities do scholars have? What do they do that makes them scholarly? Whom are some examples of scholars? Similarly, you can demonstrate your point by making a contrast; that is, you can discuss what a scholar is not.
"A scholar is passionate about studying, strives to perform, and has a sharp focus." To support such a thesis statement, your topic sentences need to specify, with appropriate examples, the points outlined in the thesis.
Definition essays
are personal in nature, so be sure to select a term that you feel strongly about clarifying.
Describe Your Ideal Study Space
When giving a description of something, writers will usually be very detailed in telling how something looks, but they often forget to utilize their other senses: What do you hear? How does it feel? You need to use vivid details and concrete images, and your examples and details should be as specific as possible. Your goal with a description type essay is to create an image in your reader's mind that is as close to the scene you're trying to describe as possible.
Discuss the Advantages (or Disadvantages) of Online Education?
Analyze the advantages or the disadvantages, but
don't
do both. You may use an argumentative format for this. In that case, make sure to use the right rhetoric to be persuasive when you present your positions. With a
thesis statement
like "Online education can't replace the traditional classroom," you'll want approach your essay as you would a debate: How would a proponent of the traditional classroom argue against you, and what would you say to rebut that argument.
You might also employ a more expository technique. "Online education offers great flexibility, it is economical, and it provides universal accessibility." You would then need to provide sufficient examples to illustrate each of these points.
Letter Grades Are (or Are Not) the Best Measure of Student Success
Again, choosing a topic that you feel strongly about and that you can adequately justify within a finite essay will determine how successfully you are able to argue your point. There is plenty of evidence to provide persuasive arguments for and against such an idea, so it's important to make a point and be able to refute information that contradicts yours.
Another option would be to discuss alternate measures of success. Your thesis could be something like "Personal satisfaction, knowledge, and economic opportunity are the real measures of student success". Such a thesis could lend itself to either a cause-and-effect or an expository type format.
back to all posts