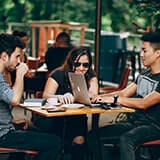 Prepare for an Essay Exam
Writing an essay
exam requires a different skill set from other types of exams like the popular multi-choice exam. An essay exam is indeed one of the hardest exams students have to take. It can be made easier if you follow these simple tips.
The first key to simplifying your essay exam is attentiveness. Understand the key concepts of the topic you have already been taught in class. You don't need to cram an entire textbook to be successful in your essay exam. Picking the salient points and expanding on them may prove to be crucial to the outcome of your essay exam. It is also likely your teacher will develop essay questions throughout the course of your study. Concentrate on these essay questions because most of the times they end up being used for actual exams.
It is recommended that students study every day of the semester. Some students may find this difficult to do. For this grade of students it is advisable to start preparation for exams two weeks ahead of the exams. You will find that the topics are more likely to be assimilated within the time frame. Use your course outline and pick out the topics you probably feel you are good at. Let these topics be your strong points. Work hard at them. Later, pick out the most difficult topics that you are less conversant with. Study them as well. Remember, your purpose here is to have something to fall back on in the exam hall. Pick out the simple and important points in this new category of difficult topics. Don't waste time trying to understand everything in this category if you don't have the time. In the end you will succeed in having a well balanced preparation.
Brainstorming is a particular activity that will benefit you immensely as you prepare for your essay exam. Brainstorm with your peers and fellow students. Share and exchange ideas with them. If you have difficult questions, it is probably the best time to ask for help. A note of warning though, be sure to brainstorm with the best brains in your class. These are the people that have something useful to offer you. It is no use brainstorming with a truant that is rarely in glass.
4.
Formulate possible essay exam question
As you plough along preparing for your essay exam, it is important to formulate possible
exam questions
. Some text books have questions at the end of every chapter. If you are fortunate to have one of such text books being used for your course, try to answer the questions at the end of every chapter. It is easier for you to remember the answers to questions you have previously attempted.
5.
Make use of past questions
At this point in your study, it is assumed that you should have covered quite a lot of your syllabus. The final step to take before the exam date is to look at the past essay exam questions. Some teachers are known to repeat questions from previous years. While this may not always be the case, at least it will give you an idea of what to expect. If the syllabus currently used by your department is the same as previous years, there is no way you can go wrong studying with past essay examination questions.