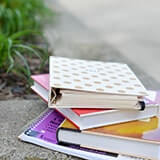 Literature Term Paper: How to Cover It All
Oct 27, 2012
When your literature course instructor assigns a term paper, consider the implications: on one hand, you will have all term to work on it, so you can view it as a good opportunity to show what you're capable of when you've got ample time to devote to a project. On the other hand, the fact that your instructor is providing you with that extended amount of time means that your product needs to be polished and go beyond the superficial. In other words, your
term paper writing
should be as close to perfection as possible.
To produce a solid literature term paper, you'll need to employ your research skills as well as your management abilities. This will not be the type of assignment that you hammer out in a couple of nights. Over the course of the term, you'll need to keep up to date on classwork and text assignments, select a topic early on, gather appropriate resources and conduct the necessary research, draft and redraft the paper, and, of course, you'll need to do it all under a deadline, which means adherence to a schedule is of paramount importance.
Timeline of a Term Paper
Procrastination is the enemy of the term paper. While it may seem like you've got plenty of time, it's never too early to begin forming a plan for your term paper writing. The syllabus or course outline is an excellent place to start. Use it in coordination with your calendar. As the dates come closer, you can focus on certain literary works, schedule time to research them in the library in conjunction with your classroom activities, and also collect background and supplemental information that will aid your understanding.
Look upon your course outline as an opportunity to select a topic, too. If you can get a preview of the reading list, you can start thinking about the way the literature might lend itself to a certain type of term paper: Are there similarly themed stories that could work for a comparison-type paper? Perhaps you can contrast types of literature coming from different cultures, countries, or periods. Analyzing the literature with regard to its elements of style (plot, theme, characterization, etc.) may provide another avenue for a term paper topic.
Selecting a topic early on will allow you to focus on relevant material as the course develops, and it will also provide time for you to narrow, modify, or even change your topic. If you find that your original topic idea is not viable because the information doesn't support it or some other obstacle surfaces, it's critical that you make that discovery when you've still got time to change direction.
Gathering and Documenting Literature
In addition to the actual works themselves, your course text will be an invaluable aid. Oftentimes, background information and significant scholarly discussions will provide the deeper analysis of the texts you'll be studying. However, the text is no substitute for the original works. It's a supplement. Other supplemental sources, such as encyclopedias, biographical works, and reviews will discuss the important points of the literature - in terms that are easier to understand than your text. Used together, the literature, text, and supplemental sources will form the bulk of your resources.
As you gather notes and collect information related to your topic, be sure you are taking the proper steps to document any of the resources you will be quoting, summarizing, or paraphrasing. Most term papers will contain both in-text and bibliographic citations, so take care to collect the information exactly as it is presented, and gather all of the information (author, title, publication place and dates, etc.) you'll need to properly acknowledge them in your term paper.
Now is the time to start narrowing your topic so that you can thoroughly present it in your paper. As your research leads to greater understanding, you should draft out a thesis statement and a plan for developing it. This critical step will enable you to cover what needs to be covered within the confines of your term paper. It's better to thoroughly cover the important points than it is to try to include everything and ultimately end up with a paper that wanders aimlessly about.
The Selection Process
Once you've read and gathered all the material, it's time to start assembling it into what will become your term paper. In deciding what to leave in and what to leave out, consider your audience; in a literature course, this will likely be your instructor. For that reason, your paper normally won't focus extensively on the plot because your instructor is already familiar with it. That will free up more space to devote to deeper analysis of the topic.
Do include the relevant findings of your research. Present it in a way that reflects upon your thesis statement and plan of development. Your presentation of the research will likely illustrate a progression of your understanding of the literature, which is the whole point! For that reason, consider the order of your presentation. There should be a reason why you discuss the research in the particular order that it appears in your paper.
Do include your own reactions. While it may be difficult to present any truly groundbreaking revelations (after all, most literature has been extensively studied through the ages), the backbone of your research will be what you learned from it. However, your reaction to the literature should be based on what you read, and you should be able to back it up with specific relevant examples from the literature.
Most importantly, do include your point or argument, and be prepared to defend it or consider alternative views for your term paper writing. Your voice can and should come through in your paper, and, whenever possible, you'll want to use your own words. Again, you may not be presenting something that hasn't previously been said to some degree in some variation, but you should show evidence that you've developed greater understanding, are passionate about the process, and that through the course of
writing your term paper
, you've discovered something truly worthwhile in literature.
back to all posts