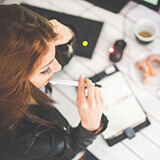 JSTOR for research paper writing
Apr 16, 2013
Shortly after beginning the research process many take to the world of online databases to initiate the
literature review
. Whether working as a sole individual or connected to an institution, there are numerous sites available for obtaining, credible, scholarly information. One of which is a well-known, digital library referred to as JSTOR.
Developed in 1995, JSTOR is undoubtedly one of the world's most frequented online databases for scholarly and peer-reviewed journal articles. And in addition to its reputation for being a periodical home, JSTOR also provides access to over 15,000 books under the Books at JSTOR program (a recent addition to the site).
Accessing JSTOR
Most access to JSTOR's content is done via subscriptions, either through an academic institution, library or research organization. Users can either access information onsite (through linked computers at the subscribing institution) or remotely (by securely logging in to the system from elsewhere). Likewise, individuals not connected to an institution can also access publications through the site's Register & Read program (created for scholars and researchers in order to provide them with limited free access to older publications). But as for students, the most common access is generally through a school subscription.
What are JSTOR's limits?
When weighing-out options for your research information, it's important to know what each source has to offer and any limits on the information they provide. As mentioned earlier, JSTOR works primarily with journal publications, and in the interest of these journals and their subscribers, JSTOR does not generally provide very up-to-date or current
articles
(though there may be some exceptions to this rule). So in most cases there is a 3-5 year lag in publications, therefore anything written within the last three years or so would not be available through JSTOR.
So what does this mean for you? Well if you're researching a time sensitive topic (perhaps current business models or economic trends) then this may pose a problem. But even in such situations you may find older articles to be very useful.
Utilizing older articles for current topics: You may find it helpful to use old articles to...
to provide the basis of a particular concept or theory (thoughts and ideas on the way things work are usually as old as the field itself; so older articles can be very helpful when you need to provide theoretical backing for a particular topic)
to help kickstart interest areas and subtopics (many of today's writings and research is nothing more than a revamp of yesterday's, so in outlining issues to discuss on your current topic you may find it beneficial to peruse older articles for ideas)
to establish trends or patterns (if working to prove that a particular pattern or trend is present, you'll need to backtrack a few years to obtain the evidence you need; and though primary evidence is usually best, you may find a good secondary source that sums it all up for you as well)
*Its also important to note that many other online databases will likely present a similar lag in publication dates to preserve relationships between themselves and publishers. So the only other alternative to receive up-to-date articles would be to go to directly to the journal's website for access (some of which may be offered through a school subscription or simply free to anyone for a limited time).
And aside from this one limitation, the only other concern may be the subjects covered by JSTOR. But considering that it offers articles in over 50 disciplines, unless a topic is very rare, the hope is that it will be covered within the database.
JSTOR and your research plan
Every good paper begins with a good writing plan. And when it comes to
research papers
this begins with outlining a great research strategy.
A research strategy is simply a roadmap to how you intend to obtain the information needed for your paper.
It should start off by indicating the best places to go to get the information and then how best to search for items once you've arrived there.
In addition to having JSTOR in your list of online databases there are several other collections that also include thousands of articles that may not be available through JSTOR such as Academic Search Premier or Ebscohost. And as you develop your research strategy you'll want to list all of the useful places that come to mind, whether for journal articles or other data. A sample list can be seen below.
Sample research list
General information on my topic...
Encyclopedias
Dictionaries
Subject-specific encyclopedias
Specific information on my topic...
Library catalog for book titles (ex. school library or local public library)
Online journal databases for articles (ex. JSTOR, Academic Search Premier)
Government websites for documents and statistics (ex.The US Census Bureau website)
News or magazine articles for interviews and first-hand accounts (ex. The NY Times website)
So after you've provided yourself with a narrow list of places to obtain information you'll want to develop a fast and efficient way to gather all of your sources. This can be done by creating a keywords list. Your keyword list should be comprised of all the possible words connected to your topic (to aide you in obtaining the best matches for your search).
If you've ever done any type of research in the past, you know how frustrating it can be to not find the results you want when you type in your keyword phrase. And in many cases its not that the information is not available, its simply that you're not using the right keywords to locate it. So having a list handy when you're at the keyboard can save you tons of time and frustration.
Sample keyword list
Topic: Education laws in America; The No Child Left Behind Act
Thesis: The No Child Left Behind Act fails to provide a sufficient means of assessment for children with disabilities.
Keywords: No Child Left Behind, NCLB, ESEA, education law, annual testing, children with disabilities, learning disabilities, instructional accommodation, state education report, student testing, student assessment, state guidelines
*After conjuring up a good keyword list the final step would then be to actually navigate your way through JSTOR's system. And considering that the interface is extremely user-friendly this should not be very difficult at all (though assistance pages are readily available if a problem does arise).
back to all posts
By
Martha Buckly
. Martha is a good freelance writer and loves sharing posts on different topics including tips and guidelines for articles and academic writing. Her professional experience helps to create interesting and useful material.