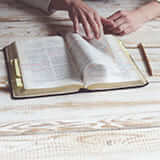 How to Pick a Paper Topic without Wasting too much Time
Nov 09, 2012
A good paper starts with a good topic. But how do you choose what you want to write your paper about? Some teacher's make it easy by assigning subjects, but often it's up to you what topic you want to explore. Below you'll find advice on how to make sure the topic you choose for
writing your paper
will get you the grade you want.
Choose something that interests you
The most important thing to consider when picking a paper topic is also the easiest: what do you want to write about? You'll likely be spending a lot of time reading, thinking, and writing about this topic, so choose something that you know interests you and will hold your attention. Interested in a particular author, time period, or area of scientific study? Take this opportunity to learn more. Conversely, if there's a subject you hate with a fiery passion, try to avoid it to prevent headaches and frustration down the road.
If you're stuck with a
paper topic
you hate, try to make the best of it. You can even turn that topic on its head by writing about just why you hate it so much. For example, if you're trapped researching an author you hate, try writing about just what makes that author so annoying. Are the characters flat? Is the writing bad? Remember, you can make almost any argument you want in a paper as long as you back it up with evidence!
Be different
Avoid topics that everybody else is writing about. Nobody, including your teacher, wants to read dozens of papers about the same topic, so picking something different will help your paper stand out from the pack. Plus, if everybody is sharing resources like books or lab equipment, you won't have to battle with your classmates for the materials you need.
Be realistic about what you can do in the time you have
If there's something you want to write about it can be tempting to just dive head first into the deep end. Maybe you're interested in history, so you choose to write about the Civil War, or maybe you love dolphins, so you choose that as a topic for a biology class literature review. But before you jump into the topics, take a second to consider how much work they're going to be. Both are broad, wide-ranging topics - the literature written about the Civil War could fill whole libraries. Often students choose topics like this specifically because they think their extensiveness will make them easier to research, but ask yourself, do you really have time to sort through all that material?
So instead, when you're picking a topic, try to choose something narrow. If you pick, say, a specific military battle from the Civil War or a particular aspect of dolphin behavior to study, you'll have an easier time finding the sources you need in the limited time you have. Plus, it's always better to go in-depth into a narrow topic than to do a shallow study of a general issue.
Use the resources at your availability
When you're trying to choose a paper topic, consider all the resources you have at your disposal. The
paper writing process
will be a whole lot easier if you have ready access to the research sources and experimental equipment you need, so shape your paper around what's available. Does your school library have access to particular peer-reviewed journals? Does it have special sections devoted to particular topics? Are there materials available at your school that you'd be able to use (i.e., computer software, lab equipment, test subjects, etc.)? Conversely, if there's something you'd need for your research that you wouldn't have access to, you might need to pick another topic.
Also consider the people around you. If you're at a university, investigate what topics the people in your department study and see if there's a related research topic they recommend. Not only will does this mean that you'll know the school will have the physical resources you need, but it also means you'll be able to get great advice on your work. Speaking of which...
Ask your teacher
When all else fails, don't be afraid to simply ask your teacher for suggestions. He or she might have a list of topics available for just such an occasion, or they might be able to steer you towards something that would interest you. There's nothing wrong with asking for advice - the worst that will happen is that your teacher will tell you no, and even then you're no worse off than when you started. What's more likely is that your teacher will be impressed at your initiative, and, as an added bonus, you can be sure that your topic is appropriate for the assignment.
Don't be afraid to change it up
If you start doing research and you find that your topic just isn't working, don't be afraid to switch gears. Often doing the initial research will help point you in a new direction. Don't wait until it's too late though - if you've already done the research and started writing, it's best to stick it through until the end rather than change course late in the game.
Brainstorm
Don't just pick the first paper topic that comes along - you might be well into your paper before you realize that you've made a bad choice. Instead, take the time to brainstorm and make a list of several potential topics. Once you have a list, evaluate your choices based on the criteria in this list.
A good paper topic will be:
Narrow. Don't pick a topic that's too broad - you want to have the space and time to go in-depth in your paper.
Different. Stand out from the crowd by picking topics nobody else in your class is covering.
Doable. Do you have access to the resources you'd need to do good research on this issue?
Interesting. Does this topic interest you? Picking a boring topic isn't going to keep you focused on your work.
If after all that work you're still not sure what to write about, just pick a topic and run with it - it's better to have a well-written paper about a bad topic than to turn in something that's poorly done because you took too long to decide.
back to all posts