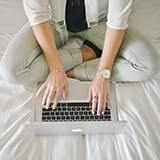 How to Answer Questions in Coursework
Sep 27, 2012
A notable piece of writing is one that helps the reader with a genuine indication of the student's ability. As a student, it is essential that you express yourself accurately and articulately to secure decent grades and to get closer to you envisioned career-path.
It is a well-known fact that irrespective of their choice of academic paths or chosen subjects, all students must write. Written assignments are an integral part of almost all course-works, and hence all students should endeavor to improve their writing skills to perform better in their coursework, and of course to secure better grades.
Get Yourself Organized
Assess the workload and give yourself sufficient time for research and literature searches. Do not procrastinate your coursework. It is highly recommended that you plan a submission date well in advance. Get yourself everything that would be required to complete the assignment to perfection; for instance - note pads, file boxes, pocket files, ball point pens and any other stationary that you might require to complete the coursework. This would help you concentrate on the actual coursework in hand. Also let your family and friends know that you need some time to work alone so that they give you the required space and time, which inadvertently would ensure a smooth sailing of your coursework.
Coursework Writing: the Craft
The quality of your coursework depends primarily on your ability and proficiency to express your ideas. The written coursework or assignment facilitates your tutor to assess your progress with the course. It helps to understand that you can score more than seventy percent marks provided you are able to adopt a good line of argument and are able to express it intelligently in your assignment. Needless to mention, a good line of argument gives the impression of broad understanding and subtle implications, and hence accordingly the marks or grades. You must attempt the coursework question confidently; try and identify related issues and employ evidences and examples in your answers wherever appropriate. Most importantly, you must ensure that your coursework answer is a valid piece of analysis that flows well.
Read on to lay your hands on a plan that can help you with your coursework answering endeavors:
Start with the Question
The planning aspect of your coursework must start with the question. It might sound obvious to some, but it is a must mention as there is no dearth of essays or
coursework assignments
that have vague or no reference to the question. Take some time to carefully read and analyze the requirements of the coursework. Interpret the question correctly, as the quality of your coursework answer depends largely on your interpretation of the coursework question. It helps to realize that words such as discuss, describe, assess, evaluate, compare and contrast can have very different implications and hence demand different treatment in your coursework.
For instance - if your question says describe, then you simply need to facilitate the reader with a detailed account of the happening, argument or idea; on the other hand, if the question asks you to discuss something, then you require to go a step further and to describe as well as give reasons for as well as against the point or theory in hand.
Try and Be Original
Almost anyone can draw from other's ideas and answer a coursework, but what will give you an edge over others is your original ideas. In any academic course, the instructors expect students to use their own ideas as well as to draw points and arguments from authoritative resources in the subject in hand. However, if you cannot think of anything original, then you will at least require exhibiting your understanding of the subject by paraphrasing the ideas of others and combining different arguments to give them a fresh perspective. To succeed in this, you must indulge in a thorough literature search and research.
Get Down to the Actual Writing task
Once you think that you are well organized and have ample research material and ideas, the next step is to actually get started with the writing of the answer. You can start with breaking down the answer into a series of sections or modules and can attempt to write one at a time. This can be very helpful in maintaining the desired quality, as attempting the entire answer or assignment at one go can be quite frustrating and can reflect as inadequacy in coursework answer. On the other hand, regarding writing as a methodical task and not as an impromptu job can work wonders for the quality of your assignment.
Once you start writing, keep all the research material handy. Needless to mention that you should be already thorough with all the literature searches including the entire lecture notes, handouts and published material at this stage. The next step is to simply pen down your ideas, in an orderly manner if possible. However, you must not bother much about lucidity at this stage and should be prepared for a messy flow of ideas and arguments. Remember, at this stage, you will write much more than you are actually going to use in the final coursework answer.
Once you have externalized your ideas and bestowed them with a preliminary existence, then the next step is to sift your ideas to give them a properly organized structure. This is a very important stage of your coursework assignment as this is the stage where your argument or idea secures its essential coherence. A very simple way to approach this stage of your coursework is to simply read the collected material, and discard all the material that appears extraneous and to label relevant material with appropriate sections or side-headings.
The final stage in writing is to polish your writing so that the readers are able to follow your thoughts, arguments and ideas without any ambiguity in their minds. At this stage, you should read the written content and ensure that you have expressed your arguments correctly and that there is no scope for confusion. Once you are done with this stage, you should have a fairly decent completed coursework in your hands.
Proofreading and Editing
One cannot stress enough on this significance of this last stage as this stage where your coursework can boost itself from being good to excellent. You can try reading the completed coursework loudly to check for lucidity and errors, and correct them appropriately. However, the best way to improve the quality of your paper at this stage is to get a knowledgeable friend, acquaintance or relative to read and find errors for you (as you are not very likely to find errors in your own writing). If you do not know any such person, then you can try professional
proofreading and editing services
, as it will help you be sure of the overall quality of your coursework.
Diligently follow the above-mentioned steps, and you are sure to come up with a coursework answer that is not only correct, but also impressive and inspiring.
back to all posts