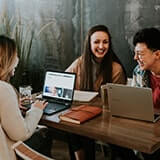 Finding a Good Topic for an English Essay
Aug 23, 2012
One of the most difficult parts of writing an
English essay
is finding a good topic. Sometimes, your tutor can give the essay task to you with assigned topic. Other times, you are left to your own devices. This difficult situation can be made a lot easier if you know what to do.
1.

B

rainstorming is a good way of choosing an English essay topic. You may choose to brainstorm with your classmates, course mates, colleagues or even your professor. Your purpose here is for you all to discuss particular areas that you find interesting. When you brainstorm, you are looking to pick points in your favor. When you hear a colleague say something interesting in your brainstorming session, quickly write it down. Ask your colleague or friend to explain what he means. Do this repeatedly and you may already have an English essay topic.

2.

L

ist all the topics that arouse your interests in a jotter or piece of paper. Sieve this list to separate the more interesting topics from the less interesting ones. Put your list in a safe place for later use.

3.

T

he reason you are in school is to learn. It then follows that you must have acquired some knowledge down the line. On a separate piece of paper write down all the topics that you are knowledgeable about. You might even add that you know "the earth is round". This is accepted, provided you have proof to back it up. You will find writing your English essay easier if you concentrate on subjects that you have information on.

4.

B

ring out your 3 lists. Think about the topics you already have listed. Ask yourself which of these topics you can honestly do justice to. Can you get closely involved in any topic without being lost in the ideas? It is absolutely important that you research any topic you decide to write about.

5.

M

ake your topic interesting. A boring topic will not keep the attention of your readers for long. If it is possible, choose a topic that has not be covered during your classes before. If you find this hard to do, approach your topic from a different perspective. If possible use the

DRAPES method

to capture your readers and keep them coming for more.
Now that you are writing or may have written your English essay, consider it as a first draft. There is no such thing as a completed essay. All essays are simply works in progress.
Proofread and edit your essay
several times. When you are done with this, pass it on to a second party. You will find a second person may notice errors you over looked the first time.
Read your essay aloud to yourself. Does it sound interesting of flat? Read it again to another person. What does this new person have to say about your English essay? Is your essay on focus? Is it organized? Does it have supporting evidence? What about the length and citations are they in order? Take note of these questions and you may be close to writing a captivating essay.
On a final note, I'd advice writing your first draft without worrying about grammar and spelling. For the second draft you should eliminate these things. Subsequent drafts should focus on other aspects of your essay.
back to all posts