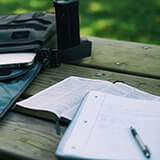 Everything You Need to Know About Style: APA
Feb 05, 2013
After all the hard work of researching and
writing a paper
, getting the formatting right might not seem all that important. As long as your ideas are good, then who cares about the title page, right? But issues like spacing, citations, and capitalization can't be ignored if you want to do well on an academic assignment, which means you should always take the time to learn how to format in the right style for your field.
American Psychological Association
The Publication Manual of the American Psychological Association
(APA for short) is the style guide published by the
American Psychological Association
. It is specifically designed for use in the social and behavioral sciences, although it is also commonly used in other disciplines as well, particularly nursing. As with all style guides, it covers a broad range of topics, including research paper formatting, table and figures, citations styles, and grammar questions.
The Basics
Here are the basics you need to know for formatting your paper:
Margins. Use 1" margins on all four sides of the page.
Indentation. Indent the start of a paragraph ½ inch from the left margin; indent block quotations 1/2 inch from the left margin as well.
Font. Choose a common and easy-to-read font like Times New Roman. Also, the APA requires the use of fonts without serifs. (Serifs are the little bars on ends of letters. For example, Times New Roman has serifs.

Arial does not.

)
Size. Use 12 point font.
Page numbers. Number pages consecutively in the upper right-hand corner starting with the title page. Do not include your name next to the page number.
Spacing. Double space the entire paper, including block quotes (quotes longer than 40 words) and the references.
Title page. The title page should include the title of paper centered in the middle of the page, followed by your name and school affiliation, also centered and double spaced. At the bottom of the page (also centered), you can include an author's note that gives specific information about the class or acknowledgements.
Running heads. APA formatting requires a running head on every page. The running head is a short (less than 12 words) summary of your title that appears at the top of each page justified left. The header on the title page should read "Running head: TITLE OF PAPER." All subsequent pages should list the running head in all caps aligned left.
Common Spelling, Grammar, and Punctuation Issues
Headings
APA has specific formatting requirements for heading and subheading titles (note that title case means all words longer than four letters that aren't prepositions are capitalized; sentence case means only the first letter of the phrase is capitalized).
Title: The title should be included after the abstract at the start of your paper. It should be centered, in title case, and not in bold.
Level 1: The next level of headings should be centered, in bold, and in title case.
Level 2: The next level down should be aligned left, not bolded, and in title case.
Level 3: The third level of subheadings should be indented 1/2 inch, in bold, in sentence case, and should end with a period.
Level 4: The fourth level of subheadings should be indented 1/2 inch, in bold and italicized, in sentence case, and should end with a period.
Numbers
In APA, all numbers ten or higher are written with numerals; numbers between zero and ten should be spelled out (e.g., 14 apples, seven children). However, numbers that include a unit of measure should always be written with numerals (7 meters, 57 pounds) as should units of time (6 days, 32 years). If a sentence begins with a number, that number should be spelled out: "Thirty-six students completed the survey."
Serial comma
APA requires the use of the serial comma in the body of the paper as well as in the references when listing more than one author. (The serial comma is the comma that comes before the conjunction in a list. For example, in APA style you would write "I need to buy shoes, a hat, and gloves" and not "I need to buy shoes, a hat and gloves.")
Latin abbreviations
Common Latin abbreviations such as i.e., etc., and vs. should only appear as abbreviations when used in parenthesis. When used in the main text they should be spelled out.
Foreign words
Words in foreign languages that are not commonly used in English should be italicized the first time they're used.
Tables and Figures
Tables and figures should be places as close as possible to where they are referenced in the text. They should be labeled consecutively throughout the paper in two separate groups (i.e., table numbering starts at one, and figure number starts at one also), and when referred to in text they should be capitalized (see Table 2; as shown in Figure 3).
For tables, the number should be written as "Table #" above the table aligned left. The title should be two spaces down and italicized, also aligned left. Table should use horizontal lines only.
For figures, the number should be written under the figure as "Figure #." After the period there should be a space and then the figure description in plain text.
Citations
APA uses an author/date citation system, which means that quotes and references to other works are noted in the next by including the author's name and the year in of the publication in parenthesis. If a direct quote is included in the text, the citation should also include the page number, and if the name of the author is included in the main text, then only the year and page number need be included in the citation.
Here's an example of what a paragraph with in-text citations would look like in APA:
Several recent studies have attempted to gauge the effects that high school experiences have on psychological development. In particular, these studies often look at how the effects of negative high school experiences can resonant in people's adult live. Smolther (2009) found that study participants showed a heightened fear response when shown neutral pictures of items commonly associated with high school, and other researchers have found that people associate high school with negative emotions such as shame (Lopez, 2008) and embarrassment (Nyder, 2011). Athwell (2009) went so far as to call high school "the defining years for the development of many negative emotions" (p. 115).
All cited works should be collected alphabetically in the
references section
(with the word "References" centered at the top of the page). Below are examples of how to format the entries for commonly used sources.
Book with one author
Webb, A. (1996). Behind the desk: teachers in the classroom. New York, NY: Random House.
Book with two authors
Waltz, B., & Marrow, C. (2007). Surviving adolescence. London, UK: British Press.
Journal article
Gonzalez, A. (2005). The psychology of teaching. Journal of Education, 25(2), 87-93.
Journal article accessed online (with URL)
Gonzalez, A. (2005). The psychology of teaching. Journal of Education, 25(2), 87-93. Retrieved from http://www.journalofeducation.com/25/2/teaching
Journal article accessed online (with doi)
Gonzalez, A. (2005). The psychology of teaching. Journal of Education, 25(2), 87-93. doi: 23.1256/65as6cs546854as8
Chapter in a book
Juarez, O., & Sutton, S. How high school makes us. In C. Owalt (Ed.), The truth about higher education: a collection of essays (pp. 132-194). Chicago, IL: University of Chicago Press.
Website page
The Education Encyclopedia. (2003). Why high school matters. Retrieved from http://www.educationencyclopedia.com/highschool/23
Newspaper or magazine article accessed online
Height, S. (2011, August 6). Local educator wins prestigious award. The Local Times. Retrieved from http://thelocaltimes/2011/pagehere
back to all posts