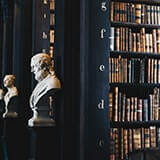 Editing tips for coursework on political science
Sep 13, 2012
Political Science as a course of study deals with the political issues within a state. Sometimes it cuts across states and economies and deals with policies as it affects the citizens of a state. A coursework on Political Science is a prerequisite for graduates in the discipline. To succeed in any coursework on Political Science, it is important for the student to be well grounded in
Political Science
. It cannot be stressed enough that a successful academic endeavor depends on the student's dedication and strength of purpose to succeed.
Editing a Political Science coursework requires that the student must have successfully written his coursework. The first things to edit while engaging in your Political Science coursework are the font size, spacing and length of work.
Spacing and length
The spacing and length of any term paper should be specifically stated by your teacher prior to writing your term paper. The normal length of a basic coursework is usually 2000 words unless otherwise specifically stated by your teacher. The spacing should also be stated in your question paper. If you didn't find this information in your paper, be sure to inquire from your teacher. The normal spacing of any academic work is usually double spacing or 1.5 spaced. Again you should make a point of inquiring from your teacher just to be sure. After
writing your coursework
make sure that the paper is correctly spaced and the word length is strictly adhered to. Not adhering to the simple rules is a common mistake made by students.
Title is important
The title of your coursework is important. When
editing your coursework
, make sure that it has a title. Use a title that completely describes what the paper is about. If you find that your topic does not adequately describe your paper, it is a good idea to change it. Make your title catchy. Give your readers something interesting to look forward to. The Title page must include the student's name, lecturer's name, name and code of course and all other relevant information like names of contributors and any other information you are required to input. It is a good practice to make sure that the title page is properly formatted with the right margins at each side of the page.
Organise your bibliography
A bibliography is a list containing all the works consulted while
writing your research paper
. Be sure to include every piece of work you cited in your bibliography. All works not cited but which you made use of should also be included in this list. It is good to acknowledge anybody whose work has brought you this far in your research. Once you have cited all your sources in text, it is a pretty good idea to organise them into your reference page and bibliography. A reference is all the works cited in the body of the paper. A bibliography on the hand is similar. The difference is that a bibliography includes all work or sources that were not cited in the body of your coursework. It also includes those that were cited.
back to all posts