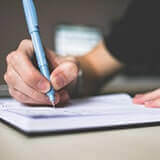 Critical essay: editing tips and useful tools
Dec 31, 2012
Critical writing is a definitely a skill worth polishing. Some very intriguing and compelling literary works have come in the form of the critical essay. When writing critically, whether you're intention is to analyze a concept, idea, individual, book or theory, your primary objectives will be to evaluate or interpret the 'text' that is presented to you. *With the 'text' here referring to anything that is being criticized; including the above mentioned examples.
With this in mind, when evaluating your own
critical essay
its important to constantly refer back to those two primary objectives-evaluation and interpretation. How well does your paper complete either of these actions? Can you safely say that you've made a significant attempt to fully interpret and evaluate the selected text? Would a reader be satisfied with the arguments you present? Are they limited in some ways?
These questions and many others are an excellent means of steering your revision process in the right direction. Not being shy about criticizing yourself is an important step in the review process. Likewise, in order to get the most out of your editing experience with your critical essay, its also important to first review the act of editing; remind yourself of what it means to edit a work.
Things to look for when editing your critical essay
What exactly is editing? This question is appropriate as the terms
editing and proofreading
are often used interchangeable though the two represent very different functions in the revision process. The editing phase involves condensing, rewording, shortening and overall modifying a text to improve its presentation, fluency, and readability. Proofreading on the other hand involves more tangible corrections such as grammar usage, spelling, and other writing mechanics.
When attempting to edit a critical essay its easiest to start with the foundations that the essay is built upon. Before shifting around any words and adding or deleting text, check to make sure all the basic components of an effective critical essay are in place. To do this simply make note of what elements you do or do not have in place in your essay. Also note whether or not this particular area is weak or strong throughout your paper and then make the necessary changes to improve it.
Essential components of a critical essay
Comprehensive and clear thesis statement
A decisive and inclusive
thesis statement
sets the tone for the rest of your paper and communicates to the reader that you know why you're writing and have a clear objective in mind. A thesis statement can easily be evaluated by simply checking to make sure that it is (a) actually a statement and not a question (b) is concise and representative of the topics addressed in the paper (c) covers only one main point (d) and is not broad and general, but specific and to the point.
Logical organizational structure
There are several ways that you can choose to organize your critical essay. Regardless of which option you choose to incorporate, the most important thing is for you to be consistent with this organizational structure throughout your paper and avoid confusing or misleading the audience in anyway.
Though in most cases a critical essay will be structured point by point;
For example, if criticizing a piece of literature you may decide to develop your argument around the author's argument or by highlighting interesting or poorly-crafted pieces of the literary work. In doing so your paper will likely be structured using a point>evidence>link>point>evidence>link format. Meaning that after stating a point you would provide evidence from the text to support it, then link it to the overall objective or argument of your paper and repeat the process for the following points.
Strong and supportive evidences
When crafting a critical essay your claims are only as good as your evidence. Part of formulating a coherent and solid argument is to scan the text or other source for precise evidential support to back up any statements or conclusions made in your essay. *If evaluating a book or other piece of literature, quotations will often play a very important role in providing supportive evidences as well.
When editing for supportive evidences its good to ask yourself:
*Are my evidences clearly connected to the point I am trying to make?
*Would I be convinced by this information?
*Are the sources of the information verifiable and credible?
*Can more than one point be supported by one piece of evidence? If so, how should I organize my paper to best facilitate this?
*Are any of my evidences bias? Did I purposely omit or leave something out to support my claim?
Suitable counter argument
A good critical essay is difficult to accomplish without a reasonable counter argument. The counter argument is important because it prepares you for criticism from your readers by addressing any issues that may be presented as a response to your initial claim(s). Counter arguments are important to present because they show that you have thought extensively about the topic and are prepared to defend your position against varies opposing positions.
Additional writing tools
Some helpful writing tools that you may decide to put to use in developing your critical essays are synthesization and journaling. Synthesization is at the heart of
critical writing
and is itself a more advanced form of analysis. With synthesization the author combines not only one or two evidences, but all supportive information as well as his or her opinion to convince the reader to accept the argument presented to them. Synthesization is a unifying tool that helps to show relationships and connections with many different sources.
Secondly, journaling is common practice for many people that can be an extremely helpful when developing a critical essay. Keeping a small notepad, journal, or other handy paper throughout your time observing (reading or reviewing) - whether it be a speech, a process, or a book-will help you naturally and effortlessly record great ideas and thoughts as they come to mind. This will hopefully not only encourage good note taking skills but also ensure that no great idea goes unrecorded.
back to all posts