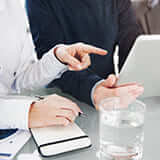 Coursework Writing: Preparation, Structure and Resources
Oct 21, 2012
When it comes to assessing your academic progress, coursework is an important factor, and it also can be a significant part of your mark. While it's assessed separately from quizzes, tests, final exams, etc., your coursework could constitute a large percentage of your overall grade. Keep in mind also that, since most instructors will assign coursework long before it is actually due to be submitted, this is your chance to show what you are capable of doing when you are given a significant amount of time to dedicate towards your work. It also serves to demonstrate your knowledge and ability to discuss the subject intelligently. Therefore, your coursework should showcase your abilities to prepare, research, and present a given project.
The way you approach your coursework, of course, depends upon a number of factors, such as the subject matter, the type of course, the academic level, etc. Regardless of the nature of your coursework, however, be sure you're properly prepared for it, approach it with a certain structure in mind, and take advantage of all of the resources at your disposal.
Prep for Success
Before you begin the actual writing, take some time to do a little prep work for your coursework. If your instructor assigned you a particular topic or question to address, be sure you truly understand what it is s/he is asking you to do. Now is the time to ask questions. You don't want to find yourself second-guessing the nature of your coursework long into the process. Communication with your instructor is also crucial if s/he has a special format to follow for the coursework you submit.
Although it may sound elementary, one of the leading pitfalls students encounter with their coursework is not following directions. Read the instructions carefully, and familiarize yourself with any new terminology. Be sure to keep an eye out for key terms, and also determine if certain aspects of the coursework hold more importance so that you can place special emphasis on them in your writing.
Next, carefully consider the logistics of your coursework, trying to foresee potential problems. Especially in the sciences, you may need to conduct research, experiments, and/or investigations as part of your coursework. If you plan to compare and/or contrast certain works for a class in the arts, be sure you have sufficient access to them. If a certain part of your coursework depends upon interviewing a particular person or examining special documents, be sure to factor that into your timeline. Devise a plan, and establish a schedule. Will your instructor allow you to work with a group in fulfilling your coursework? If so, factor those meetings in, too.
Possibly the most important piece of advice is to select (if possible) for your coursework a topic that is meaningful to you. A stronger connection with certain subject matter means that you'll be more inclined to producing thoroughly developed coursework, whereas if you take on a project that has little importance to you, it'll be more difficult to dedicate yourself to doing a decent job.
Structure and Organization
There are many different types of coursework, from
book reports
to business models, in many different disciplines in the arts as well as the sciences. Again, your instructor will be your most valuable tool in terms of determining the way to organize your coursework writing.
If your work will take the form of
an essay
, for example, you'll want to begin with an introductory paragraph that includes a
thesis statement
where you lay out a plan for developing the main ideas of your assignment. The support would come next, forming the body of your essay, leading up to the conclusion.
Your coursework may take the form of a lab report, especially for the sciences. In that case, you'll need to present an introduction where you state your purpose and possibly a hypothesis. Next you'll write about your methods and materials and discuss the data you came up with. In the next section you would describe your results. Then you'll need to analyze the data, and finally you would sum up your findings and discuss in your conclusion. Each part of the lab report has its own heading and function.
The best format for your coursework writing depends largely upon what type of assignment it is, and, as mentioned earlier, it's crucial to establish early on if your instructor has any special requirements and/or advice regarding structure and organization.
Coursework Writing Resources
Since you may have days or even weeks to
complete your coursework
, the resources you utilize play an important part in your success. Textbooks, the Internet, and even other students can all provide valuable contributions to your work.
Your instructor is probably one of the most important (and often least utilized) resources for your coursework. S/he can provide answers about the nature of the assigned coursework as well as help you with the format and structure of your paper. Even more important is the fact that your instructor may be able to point you in a new direction that you hadn't previously thought of. While your instructor is not going to perform the actual footwork for you, s/he is nevertheless an important authority to consider going to for help.
Especially for students of the arts, the library (whether virtual or brick-and-mortar) will be another important resource. Print as well as electronic sources are usually screened before they are stacked in the library shelves, so they're often more reliable. And a good librarian can provide a wealth of information and helpful advice for finding resources. In terms of practicality, the Internet can't be beat for finding current information, scholarly work, and alternate views pertaining to your coursework.
If your instructor allows it, other students can serve as an important resource. Especially for science-related coursework, partnering up with other students will allow you to split up the time involved with investigative or lab work. Tackling assignments as a group teaches you how to work as part of a team, too. Your fellow students can also provide a forum to discuss your ideas and to get new insight. However, be sure to approach group activities with care to avoid copying and plagiarism issues.
Compared to a final exam, with its time limit and rigid format, a student's stress level need not be unmanageable when it comes to coursework writing - as long as you incorporate the three necessary components: effective preparation, proper structure, and good resources.
back to all posts